Sounds like: happy, uplifting corporate background music, inspiring, motivational, music for successful business production, music that can be heard in startup and corporate product videos, advertising and commercials, vlogs etc.
'Happy Corporate Upbeat Pack' – Are you looking for a happy and uplifting professionally made, modern and motivational corporate songs to make your video project, business commercial or advertisement a success? Do you really wanna bring attention and happy and positive upbeat corporate mood to your advertising, business or startup, inspire and uplift your audience and customers with optimistic motivational commercial oriented music and are looking just for a right song? Now you have found it – 'Happy Corporate Upbeat Pack' is a highly professionally crafted up-to-date music pack, that will perfectly fit any corporate, motivational and happy uplifting commercial advertising video production purposes – now your business video will look fantastic!
The pack consists of:
1. Happy Corporate Upbeat Motivation (Mark 00:00) Duration – 2:15
2. Happy Corporate Upbeat Advertising (Mark 2:15) Duration – 2:24
3. Happy Corporate Summer Commercial (Mark 4:39) Duration – 2:30
'Happy Corporate Upbeat Pack' is a collection of simple yet powerful, inspiring and catchy corporate motivational uplifting songs, it was perfectly designed in the purpose of bringing attention not to itself but to work hand in hand with your corporate business commercial advertising video production. So your customers and audience will really feel and resonate with what your corporate business commercial is about and be motivated, optimistic and feeling good and trusted – this is what this music pack is created for and this is what your corporate business commercial advertising is for too, probably!
You'll find the best use for it with happy and upbeat, uplifting and optimistic, inspiring corporate business and product
WANT MORE MUSIC?








WHAT YOU GET?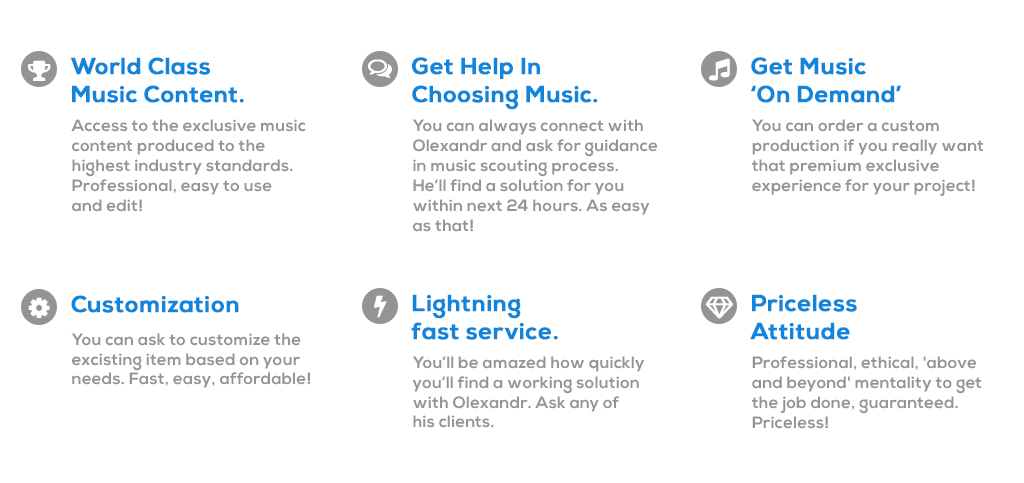 FOLLOW ME FOR A DAILY UPDATES