Great collection of beautiful music played on acoustic guitar mostly combined with electric guitar melody, with drums and bass. Sounds really inspirational, positive, upbeat, motivational and uplifting. Really useful for different kind of media production – presentation, corporate, business video, animation, commercial, family footage, wedding video, wedding footage etc.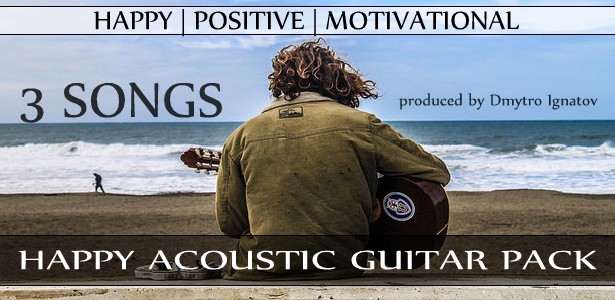 Songs in the pack:
1. Acoustic Corporate Folk Length: 2:23 Happy fun acoustic corporate folk background music. Simple, carefree, catchy and beautiful song that you'll love. Make impression on your customers with your product – just use this beautiful acoustic track. Played with acoustic guitar, electric guitar, glockenspiel, percussion. Sounds really cheerful, joyful, inspiring, motivational, easy, positive, summer feeling. It's awesome for that kind of production that need positive, carefree, cheerful upbeat energetic mood, use it in presentation, slideshow, commercial, corporate video, kids and family videos, sport videos, wedding videos, as nice acoustic background.

2. Happy Acoustic Guitar Length: 2:12 'Happy Acoustic Guitar' – that's happy cheerful light acoustic guitar music, sounds really romantic, upbeat, easy calm and inspiring, positive and motivational. Awesome music for inspiring motivational videos, romantic video, wedding video, as presentation music, slideshow music, family videos, trailer for video, film music, summer videos, vacation video, corporate videos, business, happy commercial acoustic music. Played with acoustic guitar and acoustic guitar harmonics. Really simple, really beautiful.

3. Acoustic Length: 1:10 Really happy bouncy and simple acoustic folk song, played with acoustic guitars, percussion, drums and bass. Sounds really inspiring, motivational, cheerful, upbeat and positive. Great for presentations, backgrounds, web, youtube videos, vlogs, commercial. Sounds like: acoustic guitar music, acoustic music, acoustic song, happy acoustic, happy acoustic music, cheerful acoustic guitar, happy guitar, upbeat acoustic guitar, acoustic guitar commercial.