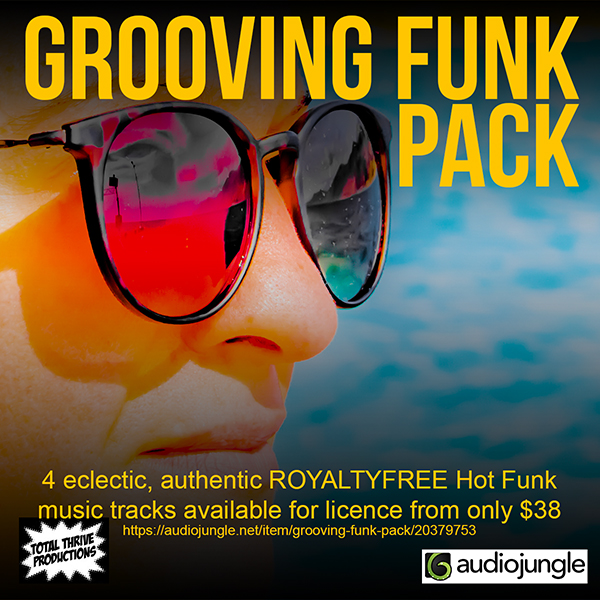 Grooving Funk Pack features 4 authentic tracks that " cook " along with Drums, percussion, bass guitar,electric guitar, wurlitzer piano, hammond b3 organ, strings, horns and the odd retro synth thrown in.
SUMMER FUNK: 3:05 – starting at 0:00 on the Preview.
https://audiojungle.net/item/summer-funk/11509515
A happy grooving summery retro funk/disco track consisting of Horns , wah wah guitar, bass , organ ,drums ,strings and retro synth. The retro summer radio sound of the 70's .Perfect for sport, beach volleyball, soccer, holidays, vacation, beach, suntan, barbecue, party, recipe video, travel. 110 BPM BEACH PARTY: 2:28 – starting at 3:03 on the Preview.
https://audiojungle.net/item/beach-party/11676710
Uplifting energetic and summery funk track of Brass, bass, funk guitars, drums and keys. Perfect for vacation, playful corporate, travel, sport, cookery, recipe videos, crowdfunding campaign, advertising, drone footage, photography, beach volleyball, barbecue, motion graphics, real estate. 110 BPM BADLANDS: 3:07 – starting at 5:27 on the Preview.
https://audiojungle.net/item/badlands/12756019
A dark, atmospheric groove of bass, drums, electric guitars, keyboards and percussion. Perfect for a road trip/movie , motoring, travel ,drama or wildlife. 95 BPM HEATWAVE: 4:21 – Full Version starting at 8:32 on the Preview. Instrumental starting at 12:52 on the Preview
https://audiojungle.net/item/heatwave/11868153
The hot and funky sound of summer featuring the vocals of Toby Carter (full instrumental also provided). Funk guitars, bass, drums, congas, handclaps, horns, vibes and synths make this the perfect summer soundtrack. Perfect for travel, holidays, weather, cookery , advertising. 90 BPM