What is a MUSIC KITS?
Music Kits are a more flexible, production ready music offering that provides fully produced music tracks in an easy to work with, modular way. Where typical music items are fixed length tracks, Music Kits are provided as separate drag-and-drop song sections built to provide natural musical transitions and endings that can be arranged seamlessly on a project timeline, with no additional mixing, editing, or crossfading required. 
MUSIC KIT Description
"Fashion Lounge Upbeat Kit" is a groovy, house, rhythmic and fashionable music kit made with my original music track "Fashion Lounge Upbeat" on Audiojungle.
Featured warm rhodes, mute guitar, synths, bass guitar, electric guitar (telecaster), house drums and percussion.
Perfect for fashion videos and shows, fashionable events and parties, luxury brand presentations, night club events and meetings, vlogs etc.
Tempo: 120 BPM
A LIST and BRIEF DESCRIPTION of all of the included sections
"Fashion Lounge Upbeat Kit" has a song sections:
Intro
Verse
Chorus
Chorus2
Breakdown
Verse2
Chorus2
Coda2
Outro
Ending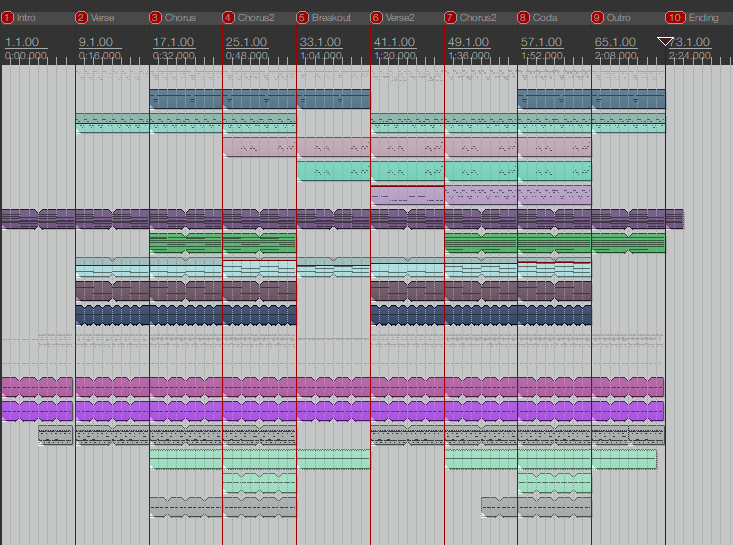 So, after purchasing you'll get this files:
01_Intro_Main.wav
02_Intro_Background.wav
03_Verse_Main.wav
04_Verse_NoMelody.wav
05_Verse_Background.wav
06_Verse_NoPerc.wav
07_Chorus_Main.wav
08_Chorus_NoPerc.wav
09_Chorus_NoMelody.wav
10_Chorus_Background.wav
11_Chorus2_Main.wav
12_Chorus2_NoMelody.wav
13_Chorus2_NoPerc.wav
14_Chorus2_Background.wav
15_Breakout_Main.wav
16_Breakout_NoMelody.wav
17_Breakout_NoPerc.wav
18_Breakout_Background.wav
19_Verse2_Main.wav
20_Verse2_NoPerc.wav
21_Verse2_NoMelody.wav
22_Chorus2_Main.wav
23_Chorus2_NoPerc.wav
24_Chorus2_NoMelody.wav
25_Coda_Main.wav
26_Coda_NoMelody.wav
27_Coda_NoPerc.wav
28_Outro_Main.wav
29_Outro_NoMelody.wav
30_Outro_NoPerc.wav
31_Outro_Background.wav
32_Ending.wav
Duration of all files are 16 seconds, except for 32_Ending.wav, 4 sec.
 _Main means that it is the main arrangement.
_NoPerc is the part where there are no claps, shakers, tambourines, bongas, etc.
_NoMelody means no lead melody
_Background combines both NoPercussion and NoMelody.
You could notice that there are no background versions on some parts of the track, because it's the same as previous parts.
All this sections are available as 'No Tails' and 'Tails' version in seperated folders!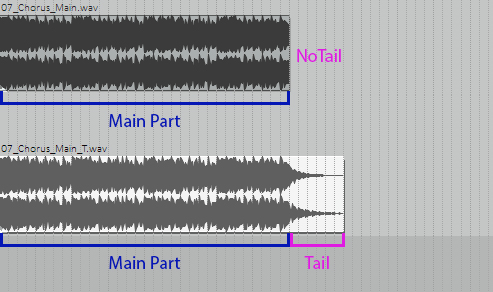 Tail versions are providing more natural ending / fading out.
I made three demo tracks to show you how you can use this music kit in your projects:
Demo01_AllMainSections (Duration – 2:31, starts from beginning in the preview)
Demo02_ShortVersion (Duration – 1:11, starts from 2:31 in the preview)
Demo03_ShortBackgroundVersion.wav (Duration – 1:11, starts from 3:42 in the preview)
Demo track (The Preview) were built using the following sequences!
There are some screenshots of the zip-folder that you'll get after purchasing.
Demo tracks folder

NoTails folder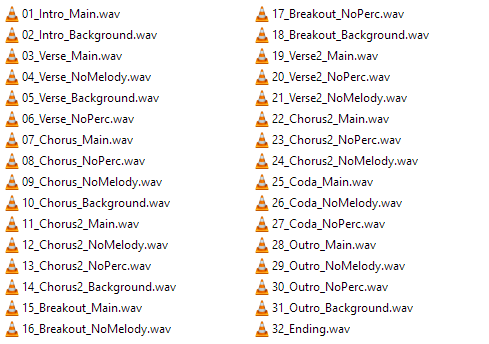 Tails folder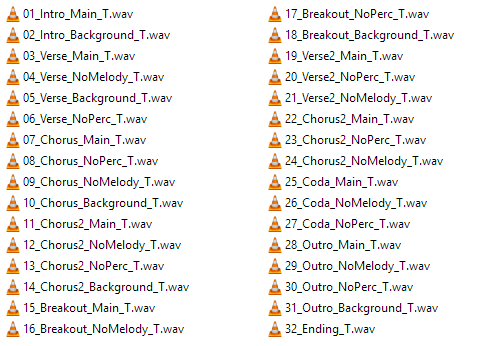 Have a Question?
Please feel free to send me a letter: epickeyzprod@gmail.com
We'd glad to hear any feedback from you! We're trying to provide the best customer service to meet your needs, so, don't forget to say thank you by rating this item with 5 stars! Have a good day!