A heroic and powerful hybrid orchestral track with an epic symphonic choir, effects and huge percussion. The track has a very powerful emotional buildup that turns into a triumphal climax with a beautiful heroic melody. Would be good for a video game trailers, movies, websites, advertising, promotional, corporate videos, TV shows and everything that needs a most epic trailer music in Hollywood style.
Finished Trailer Music for Filmmakers: Modern Hybrid Trailer
Purchase Includes 5 Versions, all in MP3 / WAV
• Epic Hollywood Trailer Main – 2:29
• 120 Seconds Version – 2:02
• 60 Seconds Version – 1:01
• 30 Seconds Version – 0:32
• Epic Hollywood Trailer Logo – 0:09

This Item In the Pack, With a 50% Off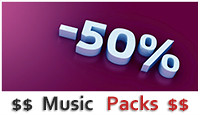 My Most Epic Music Tracks
Dramatic Hybrid Trailer
Epic Dramatic Trailer
Kindly Patriotic Cinematic Action
Bosom of the Sea
Epic Climax Cinematic Trailer
Cinematic Epic Trailer intro
the Essence of Courage
Videohive Authors
You are more than welcome to use this preview for your videohive projects. Please post the link in your item description and drop me a line!