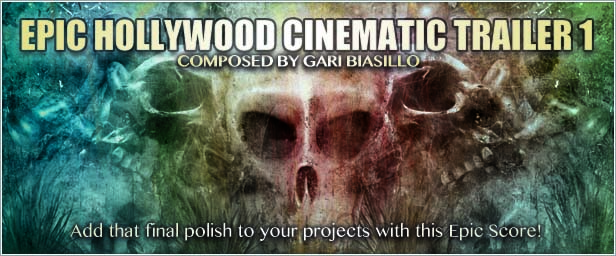 Epic, Majestic, Heroic, Powerful, Action packed Hollywood Cinematic Trailer Music!
This epic royalty free trailer music is the perfect cue to enhance your next movie, film, tv, game, or trailer project. With it's finely tuned orchestration of strings, horns, choir, and bombastic percussion that blend into a powerful and exhilarating score.
SIMILAR ARTISTS Hans Zimmer, Two Steps From Hell, Audiomachine, James Newton Howard, John Williams, Brian Tyler, Carl Douglas, James Horner, John Powell, Nick Phoenix, Thomas J. Bergersen, Michael Giacchino, Jerry Goldsmith, Danny Elfman, Ramin Djawadi
MAIN INSTRUMENTS Strings, violin, viola, cello, bass, brass, french horn, trombone, trumpet, tuba, drums, taiko, kick, dhol, cymbal, percussion.
Follow These Tag Links to Find Similar Music






Featured Tracks