A short epic cinematic trailer divided into three different sections, that will put your audience on the edge of their seats. There is a first epic section with full brass and ostinato strings. A quieter part follows, in which the an horn theme is proposed along with modern synths. The ending part recalls the ostinato strings and plays the second epic brass theme, this time with electric drums and synth bass to achieve epic full sound.
I looked for a massive sound with epic bombastic percussion, and I have used both orchestral instruments and modern electronic sounds, in order to recreate the feeling of recent hollywood action movie trailer. This music will work like charm on the background of any action, dramatic, adventure, or fantasy video!
MAIN INSTRUMENTS: Deep, huge drums, Epic Brass, orchestral staccatos, digtital synth, orchestral ensembles, fast digital percussion ryhtms and epic full orchestra.
If you need edits or other versions feel free to write me!
VIDEOHIVE AUTHORS ARE WELCOME TO USE THE PREVIEW OF THIS TRACK IN THEIR PROJECTS!
Two versions are included:
the first one is without intro: 1.08 duration (from 0 to 1:08)
a second one with an horn intro: 1:26 duration (from 1:08 to 2:34)
Please understand that due to the audiojungle logo the overall volume of the track is lowered!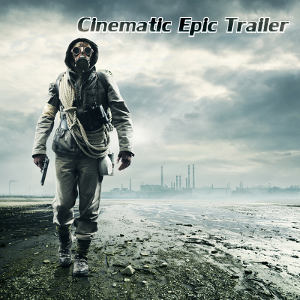 Look at my youtube channel to listen to my music on the background of several videos made by authors on videohive
Check my "happy – uplifting" track: This is not an ukulele!
Find the song you are looking for:
Happy, uplifting, corporate, motivational (also with unusual instruments!)
Save money with this "happy/uplifting songs with unusual instruments" pack

Aggressive Metal Loops
Save money with the loop pack 1, the loop pack 2, and the loop pack 3

Audio logo, Stinger, Identity, Intro
Save money with the Metal Logo Pack 1, Metal Logo Pack 2 or Metal Logo Pack 3. Look at this video featuring my best seller Metal Logo Stinger 1 and this video featuring my Metal Logo Stinger 9

Trailer, broadcasting, action, sport

New age, background and meditative music

Ambient and soundscapes for thriller, suspense and horror
Save money with this ambient pack

Cinematic, Romance, Love, Hate, Passion – Look at this video featuring my music Romantic Piano Melody
Save money with the Romantic Piano Pack

Epic, heroic and fantasy music

Lullabies for baby sleep
Save money with This lullaby pack

Miscellaneous and uncategorized, SFX and weird stuff!