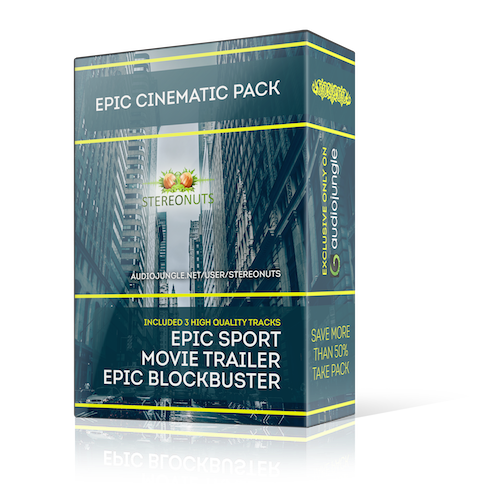 Epic Cinematic Pack is a royalty free orchestral music soundtrack for your amazing media with cinema sounds and very emotional epic atmosphere. May be using as cinematic soundtrack for video, score music, film music, cinema production, movie background. This cinematic orchestra is very impressive and have a cool epic cinematic atmosphere.





Epic Cinematic Pack has got three epical tracks with inspiring, motivational and very emotional mood. You can use they in your media project for different targets, as TV commercial background, historical film, super hero movie, trailer or teaser, video game, travel slideshow, promotional video and business slideshow or presentation for VIP, cinematic and movie or film titles, epic slideshow, sports video, documentary and nature movie, youtube and vimeo review and other video blog, background and main theme for game, racing video and many more.
Tracks, included in this pack:
Epic Sport
2:18 (0:00 start on preview)
Epic Blockbuster
2:20 (2:18 start on preview)
Movie Trailer
2:21 (4:38 start on preview)
Total time of all tracks in pack: 6:59
Both WAV and MP3 versions of the track are included in the download package.
Save your money, buy a package! These tunes will make your life more successful!
In
Epic Cinematic Pack
you find
epic music
and
dramatic background music
with
high drama, excitement and action
. Similar to
movie soundtrack scores and trailer music
, inspired by
Hollywood movie music composers
such as
Hans Zimmer, James Horner and John Williams
, this
royalty free epic music
is the perfect solution to give your project an intense, cinematic feel.
YouTube users: to clear any copyright claims on your videos (including monetized videos), simply visit this page, enter your details and video link and copy/paste the contents from your purchased License Certificate into the message box. Claims are removed within 24 – 96 hours.
Need More High Quality Royalty Free Music? Check It Out Now!