Do you need some more Epic Cinematic Tracks? Check out this collection of six action music tracks including the one you are listening to now!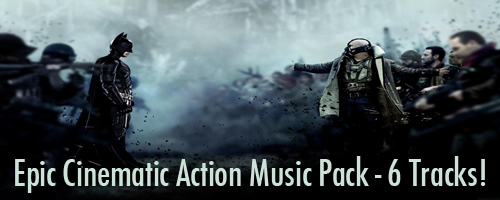 A high intensity medieval orchestral piece featuring an epic cinematic Hollywood Blockbuster feel. This track builds up in anticipation with a marching medieval melody that is dramatic and tense. Imagine soldiers marching to the front lines of battle to save the world, a hero rising to victory, a sports team entrance into the championship ready for action, knights in shining armor or a Cinematic Battle Sequence. It rises to a crescendo with driving percussion, strings, flutes and brass before dropping into a heavy fast paced chaotic mixture of heavy metal, futuristic action music and industrial hybrid sounds.
Sure to get the adrenaline pumping, this aggressive track is perfect for fight scenes, intense cinematic battle music, RPG Battle music, Dramatic Hollywood Trailer Music, Intro's and Promos, Sports Teams themes, SWAT and Covert Ops, Action Movie Sequence Music, Extreme Sports Videos, Video Game Background music, TV Commercials, Network branding, Wrestling and Fight Music, gun videos, medieval battle marches, Technology presentations, Projects to do with Armies, War, Monsters and beasts, fantasy and science fiction films and any project needing thundering hectic dark background music.
Videohive authors feel free to use this track in any of your videos. For any questions – feel free to e-mail me.