Emotional Music Kit An inspiring, emotional and soft piano with orchestra – my new inspirational, atmospheric and lyrical track «Emotional Music». It inspires, being full of feelings of love due to a romantic beautiful piano, orchestral strings, thougtful emotive cello catchy and bright bells, epic percussion and deep dreamy mood with intensive culmination. This is exactly what you need, if you are looking for background music for your next inspirational project. Also great for a motivational epical uplifting stories about love, happiness, hope, grace, wins, motivation; for timelapse, slideshows, wedding videos, commercial advertising. It's also perfect for corporate presentations, Valentine's Day, social and documentaries, web, tutorials, explainer, drone videos.
This music kit is based on my original AudioJungle item: Emotional Music
WAV files included in MUSIC KIT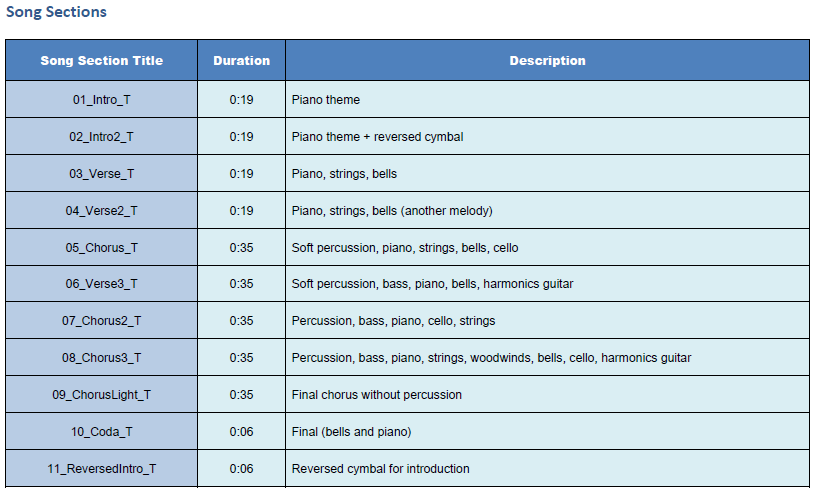 Sounds great in: Viral marketing, TV, advertisement, commercial, presentation, slideshow, movie, party, travel video, summer holiday video, game, soundtrack, corporate video, sport video, motion, animation, youtube background, positive party, inspirational film, motivational video, teen, adventure, commercial, radio, TV, web, news, podcast background for sports trailer opening, sports news tv broadcast, game competition, film, and other different projects with corporate mood.
What is a MUSIC KIT?
Music Kits are a more flexible, production ready music offering that provides fully produced music tracks in an easy to work with, modular way. Where typical music items are fixed length tracks, Music Kits are provided as separate drag-and-drop song sections built to provide natural musical transitions and endings that can be arranged seamlessly on a project timeline, with no additional mixing, editing, or crossfading required. All of the sections from the original music track are included in this music kit. You also got three demos that show how quickly and easily you can move pieces of the song around and achieve almost any desired results with length, atmosphere and transitions. You will receive all the WAV files of all three demos (unwatermarked) plus documentation containing instructions and a description of the segment sequence for those demos are included within the zip file you will download.
Have any questions? I`m happy to answer you! Contact me now!