This is an electronic chill out track with an acoustic guitar twist. One guitar plays a trippy loop in the background whilst the other plays a melody with reverb and delay effects added. The bass loops a riff and an electronic drum loop plays along side finger clicks. Very chilled out and dark sounding.
See this track in use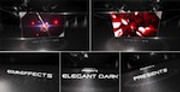 If you are interested in using this track in your Videohive project please include a link to my track and email your project link to james@sweetwaveaudio.co.uk so I can include it on my profile page.
My Links