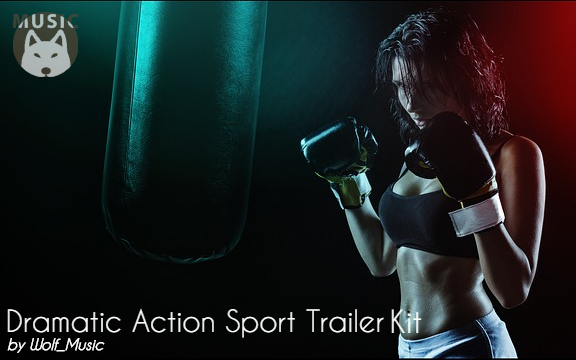 This MUSIC KIT, based on my original AudioJungle composition, Dramatic Action Sport Trailer
Dramatic Action Sport Trailer is an inspiring, motivational music for action trailers and sport videos. You also can use it for a stylish music background in advertising.
It's an extremely powerful, emotional background music for any action video experience, especially sport events, GoPro videos, extreme sports, car commercials, fighting scenes, action type adverts, advertising, healthy lifestyle presentations, sport video footage, action trailers, action films, sport timelapse, couching, climbing, training, workout, vlogs, blogs, inspirational youtube videos, etc.
Instruments: hybrid drums, stomps, claps, bass guitar, electric guitar, synth pads, strings.
Demo Tracks:
1. Demo1_AllMainSections – 1:41.
2. Demo2_ExtendedVersion – 2:01.
3. Demo3_ShortVersion – 0:37.
Track Sections
No Tales:
01_Intro (0:10).
02_Verse (0:10).
03_Verse_2 (0:10).
04_Chorus (0:10).
05_Chorus_2 (0:10).
06_Bridge (0:20).
07_Drop (0:02).
08_Chorus_3 (0:10).
09_Chorus_4 (0:10).
10_Outro (0:07).
Tales:
01_Intro_T (0:12).
02_Verse_T (0:12).
03_Verse_2_T (0:12).
04_Chorus_T (0:12).
05_Chorus_2_T (0:12).
06_Bridge_T (0:22).
07_Drop_T (0:05).
08_Chorus_3_T (0:12).
09_Chorus_4_T (0:12).
10_Outro_T (0:07).
Did you like this track? Rate it please

You may also like
Motivational Action Sport Trailer
Motivational Sport Epic Pack
Stylish Epic Sport & Fashion Rock
Motivational Epic Sport Trailer
Motivational Epic Sport & Trap Beat

To VideoHive Authors
You are more than welcome to use this track for your VideoHive projects. Please post the link in your item description and drop me a line!