This is a kit version of an epic and energetic teaser soundtrack with electronic, orchestra and fast ticking clock in the mood of Stranger Things, Dark and other modern retro series and movies. As a kit, this track is much more flexible and therefore fits very well into your trailer – perfect for movie, game, event, software, sport and technology trailer, openers and intro.
Based on: Dark Hybrid 80s Clock Orchestra Trailer Kit – https://audiojungle.net/item/dark-hybrid-80s-clock-orchestra-trailer/21219271
Three demo tracks included:
1. Basic sections played one after another 1:13
2. In this track you can hear how sections can easily and smoothly loop 1:23
3. Presentation of various sections in various order 0:47
What's Inside
11 "no tails" song sections, trimmed on the beat to help you quickly arrange and snap together a guide track for your project.
11 matching "tails" song sections, with natural audio endings for smooth transitions and a seamless final result.
3 ready-to-use demo arrangements for extra convenience and inspiration.
All audio files are provided as high quality WAV (44.1 kHz / 16-bit).
Ableton Live 10 project files of the demo arrangements to help you get started.
Song Sections
01_Intro_FX (0:03)
02_Part1a_Buildup (0:05)
03_Part1a_Buildup (0:05)
04_Part2_Buildup (0:08)
05_Part3 (0:10)
06_Bridge (0:08)
07_Part4a (0:05)
08_Part4b (0:05)
09_Part5a (0:05)
10_Part5b (0:05)
11_Outro (0:09)
Demos
Demo_01 (1:13) was made using these song sections in this order:
1 2 3 4 5 6 7 8 9 10 11
Demo_02 (1:23) was made using these song sections in this order:
5 5 6 7 8 7 8 9 10 9 10 11
Demo_03 (0:47) was made using these song sections in this order:
4 5 6 9 10 11


Search music using catalog below:
Categories:
Instruments & Genres:
Moods:
Purpose:
They say about me: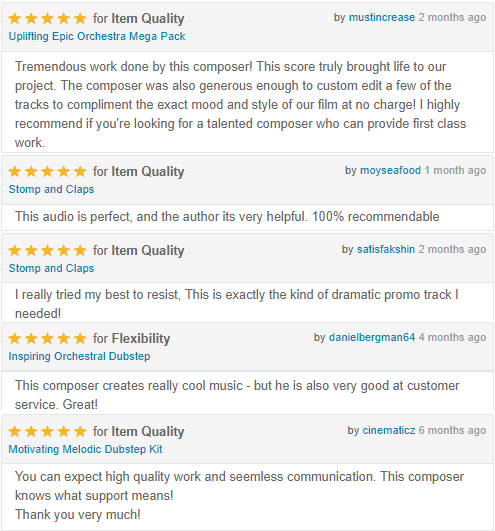 Composer: Krzysztof Pietras ZAIKS Poland IPI #00742598217 Publisher: Golden Shark ASCAP USA IPI #384548327