A cute cartoon sheep saying various things in a cute voice.
CuteSheepBaa01 (0:01) "I like grass!"
CuteSheepBaa02 (0:01) "I'm warm!"
CuteSheepBaa03 (0:01) "I'm cold!"
CuteSheepBaa04 (0:01) "I'm telling you! The dog is working for the man!"
CuteSheepBaa05 (0:02) "Can I interest you in this fine leather jacket?"
CuteSheepBaa06 (0:01) "I wanna be a pirate!"
CuteSheepBaa07 (0:01) "Star Trek TNG is much better than TOS!"
CuteSheepBaa08 (0:01) "Can you help me do my taxes?"
CuteSheepBaa09 (0:01) "Baa!"
This sfx was created for games, movies, films, entrance flash presentations, business projects, news, telecasts, podcast, slideshows, corporate videos, websites etc.
Useful for realistic, science fiction or fantasy settings and comedic or serious themes.
Available in both 320kbps
mp3
and 16 bit, 44100 hz
wav
audio file format.
Get a fitting
sheep graphic
:
Relevant Sound Packs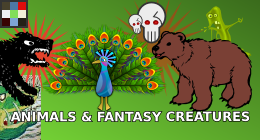 Animals and Fantasy Creatures
All qubodup Sounds