YouTube users: to clear any copyright claims on your videos (including monetized videos), simply visit this page, enter your details and video link and copy/paste the contents from your purchased License Certificate into the message box. Claims are removed within 24 – 96 hours.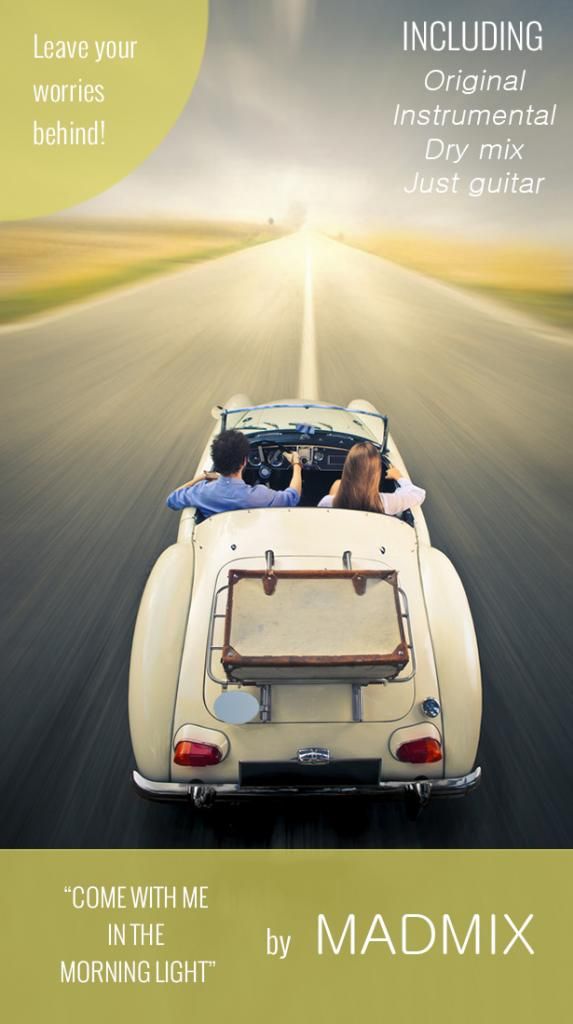 Leave Your Worries Behind
Mood:
This tender, positive and happy little song is an ode for leaving the blue feelings behind, kissing all the troubles goodbye.
Style:
Beautiful feel-good music with elements of americana and country songs, containing positive and uplifting lyrics.
Instruments:
The track is based on a plucked acoustic guitar with a shaker beat, heavily reverbed slide guitar in the background and tender male vocals.
Purpose:
Fits mainly as a theme for movies, commercials and advertisements.
Includes:
4 versions:
-Original (2:02)
-Instrumental (2:02) starting from 2:02
-Dry mix (2:02) from 4:04
-Just guitar (2:02) from 6:06
Lyrics:
Come with me in the morning light
you can worry tomorrow
pack your bags we are taking flight
kiss all your troubles goodbye

You and me we were born to move
you have wings, why not spread them
feel the wind, leave behind your blue
up in the cloudless sky

Come with me in the morning light
you can worry tomorrow
take the leap darling come with me
kiss all your troubles goodbye
up in the cloudless sky