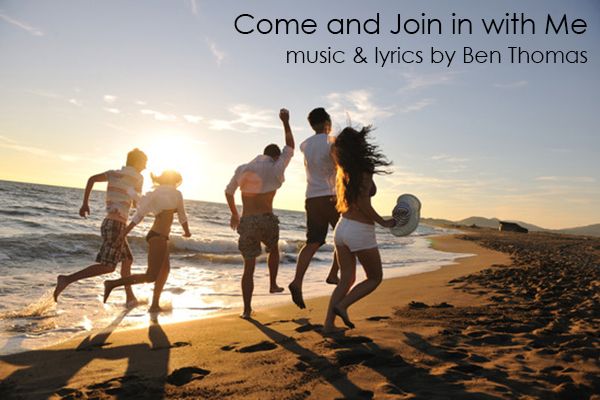 This song is a full pop/rock acoustic guitar driven tune with lyrics that are both uplifting and fun. The chorus is a simple melody that anyone can sing along too and it will have you singing along for the rest of the day after hearing it.
This download also includes an instrumental version of the song and a loop version of the chorus
Version 1: 2:17 – This is the full song (begins at the start of the preview track)
Version 2: 2:17 – This is an instrumental only version of the song (starts at 2:18 into the preview track)
Version 3: 0:19 – This is the chorus repeated and is looped audio (starts at 4:37 into the preview track)
Here are the lyrics:
Come and Join in with Me
Verse 1
Finding so much joy when I hear my heart beat.
Knowing that today I'm gonna stop and make it great, with a smile on my face.
Jump my feet out of bed feeling strong feeling brave.
Knowing that today I'm finally going to make the grade. I've made it to first place
Chrous
Oh oh oh oh oh oh oh
Verse 2
Simple things have got me high, like seeing people running free.
Cruising out upon the sea the sun is bright I'm feeling free. Everybodies free.
I laugh and jump I'm feeling great nothing can be in my.
I'm leaping high through the sky things are going right for me.
Come on and join in with me.
Verse 3
The future's there I'll make it mine.
There's not a question in my mind.
I'm gonna find what's right for me.
Gonna do what makes me believe.
There's nothing I can't conceive.
There's got to be a moment more.
Leave my troubles at the door.
Things are right they're in my sight.
I hear my heart beating free.
Come on and join in with me.