The most flexible and easy to use clap and stomp kit. You can play sections one after another, loop whichever section you want, or you can make creative variation of hits, phrases and fx. I spent a lot of time on tweaking sections to make sure that they will sound great in any logical order. Just listen to the demos in preview:

Demo 1 – sections from 1 to 25 simply simply played one after another

Demo 2 – demonstration of special claps, snaps and single hits flexible sections in creative order

Demo 3 – an example of looping various sections
Based on: https://audiojungle.net/item/clapping/20820819

Also in a discounted pack
Short logo version: https://audiojungle.net/item/clapping-logo/21944741
What's Inside
38 "no tails" song sections, trimmed on the beat to help you quickly arrange and snap together a guide track for your project.
38 matching "tails" song sections, with natural audio endings for smooth transitions and a seamless final result.
38 ready-to-use demo arrangements for extra convenience and inspiration.
All audio files are provided as high quality WAV (44.1 kHz / 16-bit).
Ableton Live 9.71 project files of the demo arrangements to help you get started.
Song Sections
01_Intro (0:01)
02_Part1a (0:03)
03_Part1b (0:03)
04_Bridge1_Snaps (0:01)
05_Part2a (0:03)
06_Part2b (0:03)
07_Part3 (0:03)
08_Bridge2a_Stick (0:01)
09_Bridge2b_Chops (0:01)
10_Part4a (0:03)
11_Part4b (0:03)
12_Part4c_Tambourine (0:03)
13_Bridge3a_Chops (0:01)
14_Bridge3b_Stomp (0:01)
15_Part5a (0:06)
16_Part5b (0:06)
17_Part5c (0:06)
18_Part5d (0:06)
19_Part6a (0:06)
20_Bridge3 (0:03)
21_Part7a (0:06)
22_Part7b (0:03)
23_Part7c_Chops (0:01)
24_Part7d_Chops (0:01)
25_Ending (0:06)
26_Single_Stomp (0:01)
27_Single_Clap_Group (0:01)
28_Single_Huge_Clap_Group (0:01)
29_Woosh (0:01)
30_Stomp_Long (0:01)
31_Claps1_Phrase (0:03)
32_Claps2a_Fast (0:01)
33_Claps2b_Fast (0:01)
34_Claps2c_Slow (0:01)
35_Claps2d_Slow (0:01)
36_Snaps1a_Fast (0:01)
37_Snaps1b_Fast (0:01)
38_Snaps1c_Slow (0:01)
Demos
Demo_01 (1:34) was made using these song sections in this order:
1 2 3 4 5 6 7 8 9 10 11 12 13 14 15 16 17 18 19 20 21 22 23 24 25
Demo_02 (0:21) was made using these song sections in this order:
26 26 26 29 31 26 36 33 29 26 38 35 26 32 26 33 29 8 27 28 26 27 28 26 14 26 28
Demo_03 (1:06) was made using these song sections in this order:
29 2 2 29 36 36 6 6 13 13 14 19 19 21 21 22 22 23 23 30 30 14 26 28
Search music using catalog below:
Categories:
Instruments & Genres:
Moods:
Purpose:
They say about me: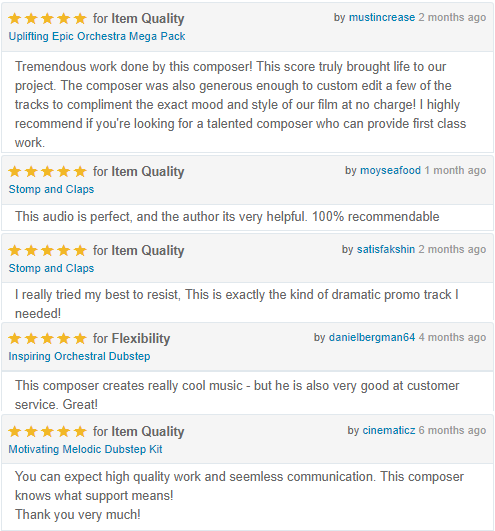 Krzysztof Pietras IPI: 00742598217