Very simple and flexible KIT. Sections are short and without tonal elements, so it's very easy to connect them in natural way. All sections can be looped. I've also added ending hits and swoosh so you can use them wherever you want. Be creative and use it in the way you want!
Dynamic and modern claps and stomps with percussion. Perfect for typography, commercial, action trailer, presentation, intro, movie, teaser, etc.
Based on: https://audiojungle.net/item/clap-stomp-commercial/19739911
Short Logo version:: https://audiojungle.net/item/clap-stomp-commercial-logo/21331551
This music was used in great project by Zanimotion: https://videohive.net/item/digital-agency-stomp-jingle-video-service/20306101
What's Inside
25 "no tails" song sections, trimmed on the beat to help you quickly arrange and snap together a guide track for your project.
25 matching "tails" song sections, with natural audio endings for smooth transitions and a seamless final result.
3 ready-to-use demo arrangements for extra convenience and inspiration.
All audio files are provided as high quality WAV (44.1 kHz / 16-bit).
Ableton Live 9.71 project files of the demo arrangements to help you get started.
Song Sections
01_Part1a (0:04)
02_Part1b (0:04)
03_Part2a (0:04)
04_Part2b (0:04)
05_Part3a (0:04)
06_Part3b (0:04)
07_Part3c (0:04)
08_Part3d (0:04)
09_Bridge1a (0:04)
10_Bridge1b (0:04)
11_Bridge2a (0:04)
12_Bridge2b (0:04)
13_Bridge3a (0:04)
14_Bridge3b (0:04)
15_ Bridge4a (0:04)
16_Bridge4b (0:04)
17_Climax1 (0:04)
18_Climax2 (0:04)
19_ Climax3 (0:04)
20_ Climax4_Ending (0:06)
21_Short_Ending1 (0:02)
22_Short_Ending2 (0:02)
23_Ending_Hit1 (0:03)
24_Ending_Hit2 (0:03)
25_Inro_Swoosh (0:01)
Demos
Demo_01 (1:24) was made using these song sections in this order:
25 23 24 23 24 24 24 24 13 16 17 20
Demo_02 (0:22) was made using these song sections in this order:
25 1 2 3 4 5 6 7 8 9 10 11 12 13 14 15 16 17 18 19 20
Demo_03 (0:35) was made using these song sections in this order:
25 1 1 5 8 17 17 17 20



Search music using catalog below:
Categories:
Instruments & Genres:
Moods:
Purpose:
They say about me: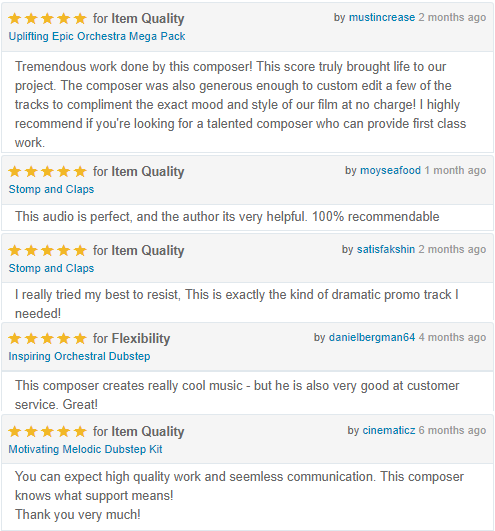 Krzysztof Pietras IPI: 00742598217