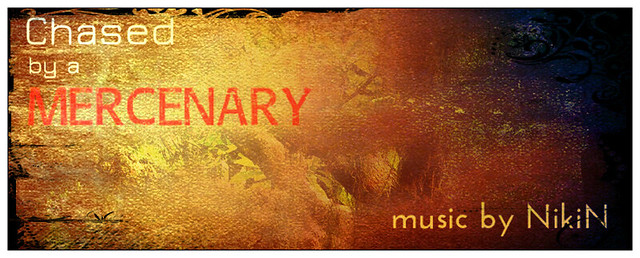 Chased by a Mercenary is…
- everyone's nightmare I'm sure, but also a a dark, dynamic and epic sounding track, in the style of modern hybrid film scores by Two Steps from Hell, Hans Zimmer, Brian Tyler, Jukka Rintamäki and Johan Skugge. It has a very harsh, distorted and abrasive sound, ready to emphasize graphic imagery and violent game missions. The cue is a cross between drum and bass breakbeat and hybrid cinematic and video game scores, containing fast chopped dnb breaks at 174 bpm, reese sounds, deep sub but also big trailer type hits and percussion, ethnic jungle mallets for a mysterious and dark atmosphere and huge megahorns for the grand finale. It has the structure of a dnb track, with an extended double part intro, two drops with an atmospheric, tension building breakdown between, as well as a big outro. However, the track still builds up to create an increasing sense of suspense and urgency, being suitable for action adventure blockbuster movie trailers or extreme sports videos.
- various transitions, reverse sounds, hits and drum fills provide markers for fast, precise and effective editing, making the music great for dynamic montages like chase scenes, battles and fights, sports sequences. The arrangement is constructed around sections of speed and aggression and suspenseful breaks, while still being editor friendly and maintaining an overall full throttle drive.
Useful as…
- music for motion picture advertising and film trailers, as well as for video game teaser trailers and production. It's suitable for titles and endings, commercials and promos and other forms of media entertainment advertising. It will take your After Effects projects and intros to the next level (so VideoHive authors help yourself to the preview!). It would work great in shooter, hack and slash (machete style) or adventure games, cops and terrorists plots, as well as epic jungle guerrilla chases, men and zombies and other apocalyptic scenarios. It can be a great opening theme for a YouTube channel dealing with cars, racing, extreme sports and other speed oriented activities. It would work just as well as opening or end titles for science fiction action thrillers.
- It would also work for subjects related to clubs, underground culture or dancing. The ethnic African and tropical elements make this beat useful for jungle related themes, too, especially games or action thrillers set in dangerous, remote islands, full of sociopaths and other memorable villains.

Like this? You might also like…