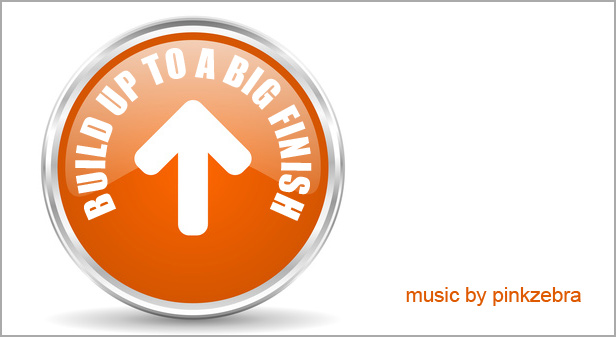 Build Up to a Big Finish
"Build Up to a Big Finish" creates a sense of anticipation. The gradual build up of energy that reaches exciting and dramatic levels. This is the feeling you get as you listen to the first half of this track. It is intended to steadily create tension with positive energy by creating huge amounts of musical momentum that will propel your project.
The second half of this track satisfies your needs and expectations for a triumphant arrival with a celebratory and uplifting rock anthem that drives home a feeling of accomplishment and satisfaction.
Listen to this track while you watch any Vimeo skateboarding video (with the video sound muted of course) and you will see how well this music works to support a story and give it great direction. Listen to it while you watch snowboarding videos. You get the idea… it's pretty cool.
To find similar music follow these tags:




Top-sellers, Songs with Vocals, and New Music



Speed Search
Web and social media links






Attention all VideoHive authors:
You may use any of my preview tracks for your VideoHive items provided you give my music track a link in your description (like "featuring the music track 'In the Moment of Inspiration' by pinkzebra"). Also, please send me an email to let me know about your item so that I can include links to your item in my profile and item descriptions to help promote your VideoHive item. Thanks! ~pinkzebra