Do you need some more Epic Cinematic Tracks? Check out this collection of six action music tracks including the one you are listening to now!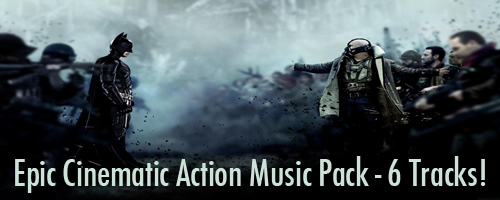 Brutal Heaviness is an aggressive and dark thrash metal orchestral track that combines classical instruments with electronic industrial sounds. The track starts off with a mysterious middle eastern sounding melody combined with monstrous drums and dramatic choirs which builds up into epic cinematic action music with rising violins and tension filled atmospheres.
This epic action cinematic track is a mix between heavy metal, hybrid orchestral, electronica, futuristic sounds and film score action music. It has a very big Hollywood action pump up adrenaline feeling. It starts from the intro which is a dark cello staccato melody with heavy metal drums which then changes into a mixture of orchestral and Action Cinematic music with futuristic electronic synths, pounding rhythmic drum beats and FX. This song is melodic, heavy, fast and exciting. It also has rising violins and a full brass section that also gives it a battle and war type of feel. This is a song that would be played during a full on battle fight in an action packed movie or an intense car chase scene. Perfect for Epic Dramatic Movie Trailers or Video Game trailers.. In short, an exhilarating and thrilling Hollywood Cinematic track.
"I could definitely see this in an action scene, most likely it could pull off best in a cyberpunk scene. Where some hackers are cracking into a system and the police are trying to find them while it's going on. great work"
Use this track for Intense Cinematic Battle Scenes, Dramatic Hollywood Trailer Music, Action Movie Sequence Music, Extreme Sports Videos, Video Game Background music, Wrestling and Fight Music, Technology presentations, Projects to do with Armies, War, Monsters and beasts, fantasy and science fiction films and any project needing thundering hectic background music.
Feel free to ask any questions regarding the track.
Think – heavy metal, epic movie trailer, Robots, Transformers, car chase, travel, brutal, rock, sports introduction, Victory, Apocalypse, Website, Action Montage, violin dubstep, horns, war cry, Radio, Police, Army, SWAT, Bomb Squad, Athlete, Space, Science, Technology, in the future, breathtaking, march, Epic Orchestral, battle march, hidden, mystical, dramatic visuals, the last stand, final hour, beasts, pump up, adrenaline, flying, wingsuit, sweat, tears, champions, outdoors, extreme sports, expeditions, wrestling theme, team theme, intense action video game music, epic dramatic trailer music