Exciting emotional full happy and fun Rio Olympics 2016, Samba with a typical Carnival feeling with fireworks and mascaraed, Brazil Olympic sports soccer, football Cup anthem, complete with sing along huge stadium crowd vocal chant and expression passionate shouts, loud Brazilian football atmosphere straight irresistible beats and rhythms making the crowd explode in a colorful dance revolution fantasy fest a giant Samba party.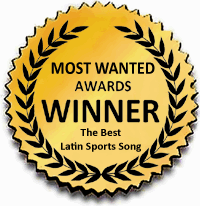 This song is ENVATO Most Wanted Sports Music Winner.
Suitable for any summer beach sports, sport news/shows opener, samba festival carnival party opening promo or commercial, Olympic games intro, television broadcast, motivational tourism commercial, sunny video games, inspiration productivity sales advertising, success trade video, stimulating trailer, action scenes, go pro hot travel videos, fighting vacation, and many more.

Versions with various duration, included:
Brazil Sport Samba Party 01 Full 140' (duration 2:20) (preview 00:00-02.20)
Brazil Sport Samba Party 02 Large Commercial version 60' (duration 1:12) (preview 02:20-03.32)
Brazil Sport Samba Party 03 Mid Commercial version 1 30' (duration 0:39) (preview 03:32-04.11)
Brazil Sport Samba Party 04 Mid Commercial version 2 30' (duration 0:38) (preview 04:11-04.49)
Brazil Sport Samba Party 05 Short Commercial version 20' (duration 0:23) (preview 04:49-05.12)
This track Featuring: cheer Stadium crowd voice, fun male vocal, victory horns, win trumpet, parade brass, wind pan flute, ethnic ocarina, authentic acoustic guitar with bossa nova style, electric bass, quirky funk guitar, perky accordion, bowl piano, kalimba, pad, Agogo Bell, Bongo, Conga, sunshine Guiro, reco-reco, Rims, Rocar, Shekere, Surdo, Tarol, ganza and chocalho, cuba caixa, repiqe, tamborims, djembe, gankoqui, timpani, bass drum and cymbals, woodblocks, Apito, cuica and massive mighty Brazilian Street parades, blocos and bandas drumming and percussion are all there for that!