This Track at 50% DISCOUNT: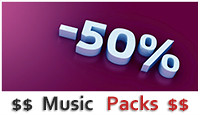 PURCHASE INCLUDES 2 VERSIONS, ALL IN MP3 and WAV
• Bosom of the Sea (looped) – 3:44
• Bosom of the Sea (extended) – 4:22
Additional edits/versions available upon request via email: superrior@bk.ru
This is a bit tragic and sad cinematic music with a deep melancholy melody. The length is quite long with mood changes from smooth and soft to the culminating climax. It made with: growing strings, strong heroic brass, woodwinds, large orchestral percussion, rhythmic electronic percussion, gentle bells, bright tambourine, pouring harp, deep and soft synthetic instruments. It is suitable as a main theme with the changes of mood and intensity. This is a serious music for your projects: a game, feature film, TV production, corporate video, web site…
My Most Epic Music Tracks:
• Great Drama
• Epic Buildup
• Epic Increase
• Dramatic Hybrid Trailer
• Triumphant Opener Intro
• Kindly Patriotic Cinematic Action
• The Essence of Courage
• Maximum Stress Trailer
• Cinematic Epic Trailer intro
MORE CINE TRAILER MUSIC:
Videohive authors are more than welcome to use this preview for their videohive projects. Please post the link in your item description and let me know!