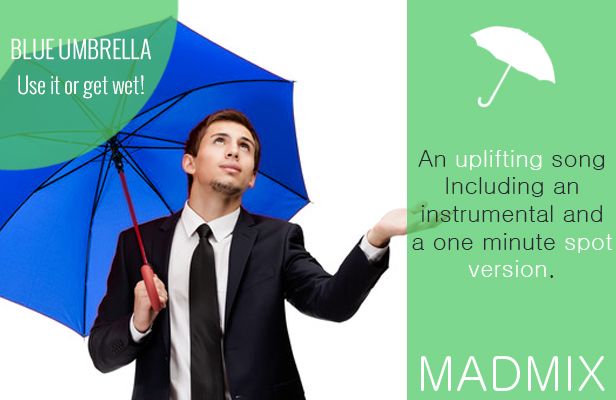 Don't Forget Your Blue Umbrella
Mood:
An ode for a rainy day. Don't mind getting a bit wet, because, listening to this uplifting and cheerful summer shuffle the sun will shine all the time.
Style:
With beautiful male vocals and lyrics along with a rhythmic pop arrangement, this song makes you sing and dance in the rain like Fred Astaire.
Instruments:
The arrangement is based on a jumping piano chord with a groovy bass and drum section, with whistling, lead vocals and background vocals.
Purpose:
This is a perfect song for almost every kind of advertisement videos, TV shows or movies. Car commercials, insurance ads, health products, travel, you name it. Also this could be a main theme for a series.
Including tracks:
Blue Umbrella 2:29
Blue Umbrella Whistle Version 2:29
Blue Umbrella One Minute Version 1:00
Lyrics
I couldn't believe my eyes
had my life, turning out
just the way that it should be
I didn't take advice
told me twice it would change
turn its stormy side on me
those clouds were miles away
Don't forget your blue umbrella
it's gonna rain today
Never trust a bright blue sky
I heard the people say
Don't forget your blue umbrella
it's gonna rain today
Take it with you don't ask why
It's easy to laugh when you're dry
Now that I know much more
I take care, take it slow
take each day as it turns out
I'm happy and rest assured
when we meet down the line
I will tell you all about
Those clouds so far away
Don't forget…