Sounds like inspiring piano, emotional piano, inspirational piano, beautiful piano, elegant piano, touching piano, uplifting piano. Beautiful, inspirational, motivating, happy, optimistic, relaxing piano melody. With mix of glockenspiel and bells it creates unique beautiful music experience that will add beauty and success to your video.
This piano with bells – that's what you need to make outstanding video people will LOVE.
SAVE 50% BY GETTING THIS TRACK WITH Emotional Inspiring Piano Pack
It will be awesome background for for your project – cinematic, film, wedding, photography portfolio, beautiful presentation about nature, travelling, family videos, tv advertising, viral marketing, business videos, financial, team building videos, commercial, inspiring backgrounds, presentations, visuals, corporate projects, video backgrounds and much more…
It's awesome for montage, time lapse videos, marriage videos and photos, because it sounds really romantic, relaxing, lovely, soft. Mood: inspirational piano, pop, uplifting, hopeful, beautiful, upbeat, soft, inspired, motivational, uplifting, optimistic, catchy, positive, successful, easygoing, lighthearted, corporate, peaceful, soft, relaxed, happy.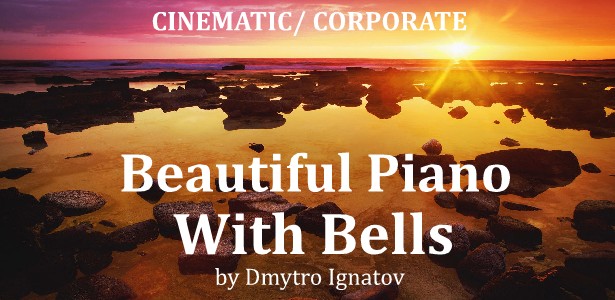 VideoHive authors, feel free to download this track and just contact me through the Contact Form, so I can promote your work! Please leave reviews of purchased tracks and don't forget to rate after your purchase!






+