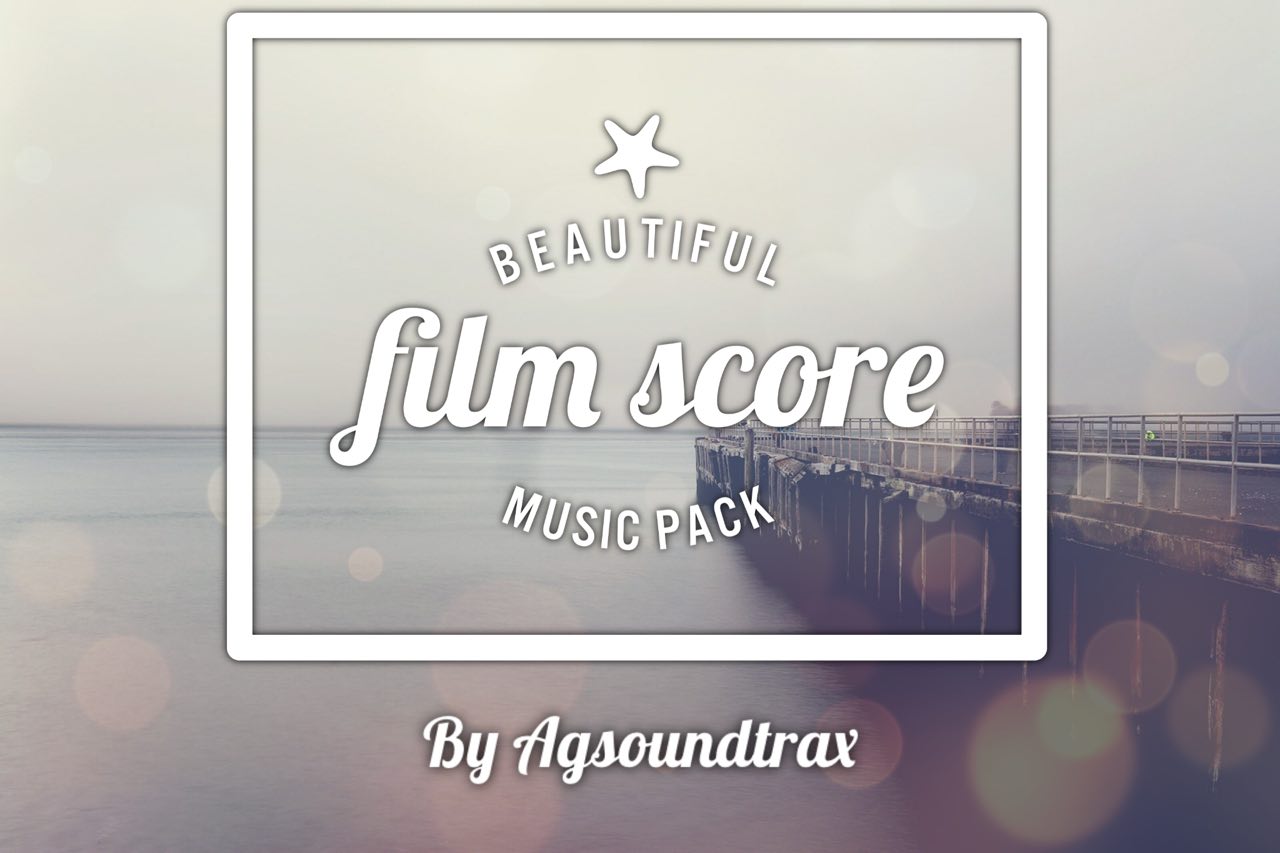 Beautiful Film Score Music Pack
is an awesome, beautiful, hopeful, warm and uplifting collection of 6 inspirational cinematic background music for piano, orchestral strings and percussion. Great for advertising, dramatic and emotional films, youtube videos, documentary, corporate videos, inspiring and motivational video, tv, slideshows, web, sports videos and more. Several versions are included for each track
Track List :
1.
American Story
2:21
An evocative piece of music, similar in style to Thomas Newman, played almost entirely on the marimba. There is a strong sense of narrative to the track despite its simple instrumentation and it would be perfect for any modern drama.

2. Floating Dreams 3:19
Soothing underwater influenced track with layers of melodic synths building and dropping to create a beautiful textured atmosphere track. Would work really well for anything involving underwater or water scenes.

3. Everything Is Changing 2:07
An odd, tense, abstract track that starts off with tense and dark strings that play sounds more than notes which then abruptly turns into a dark and sad cello melody with a touching piano and harp notes on the top, Highly suitable for sad and melodramatic scenes.
This track includes 3 edit versions :
Everything Is Changing Full Mix 2:07
Everything Is Changing Cut B 1:25
Everything Is Changing Cut C 0:54
4.
Show Me The Way
2:00 An emotive film score piece, with a smooth harmonic guitar riff,a warm strings that accompany by a beautiful and innocent piano, featuring pizzicato, plucked strings and warm chords. This track includes 3 Edit Versions
Show Me The Way Full Mix 2:00
Show Me The Way Cut B 1:27
Show Me The Way Cut C 1:00
5.
Light Of Dreams
2:03 An atmosphere piece with great sense of time, space & memory-inducing surreality to it. Float away as your thoughts engulf you. could be great for romantic/cinematic/documentary projects..
This track includes 3 edit versions
Lights of Dreams Full Mix 2:03
Lights of Dreams Cut B 1:18
Lights of Dreams Underscore 0:56
6.
Dark Clouds
1:05 This very dark film or TV drama underscore cue builds slowly in tension, but keeps a steady ticking pattern throughout. repetitive guitar riff make for a very unsettling, pensive wait. Suitable for crime scene investigation, criminal forensics, horror or dark drama, tense moments during a reality show, documentary looking into evil killings etc..
This track includes 3 edit versions:
Dark Clouds Full Mix 1:05
Dark Clouds Cut B 0:46
Dark Clouds Cut C 0:27
Thank you for listening and choosing my music.
AGsoundtrax !