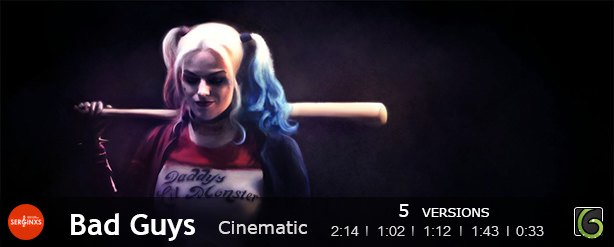 Action hybrid trailer with voices. Track starts from tension part with vocal and gradually rises to the powerful action with guitars and epic drums in the ending. Instruments: distortion guitars, big cinematic toms, ambient pads, synth rising sound FX, action hits and strikes.
Perfect for action trailers, teasers, promo, video games, aggressive video and media content, advertising video, sport video.
Video project with this track The Fastest Men in the World | 2017 ● HD

Archive contains 5 versions
Main (2:14) – Full version with all instruments and voices (in preview from start). WAV & MP3


Short (1:02) – One minute energetic version without long intro (in preview from 2:16). WAV & MP3


Short_no_Voices (1:12) – Short version without voices with tenison and ambient intro (in preview from 3:21). WAV & MP3


Middle (1:43) – Shorter version with all main parts (in preview from 4:34). WAV & MP3


Extra_Short_no_Voices (0:33) – Half minute ident version without voices (in preview from 6:18). WAV & MP3



Feel good and have a nice day!