Please go to the download and put 5 stars after purchase. It's very fast, and makes me happy Thank you!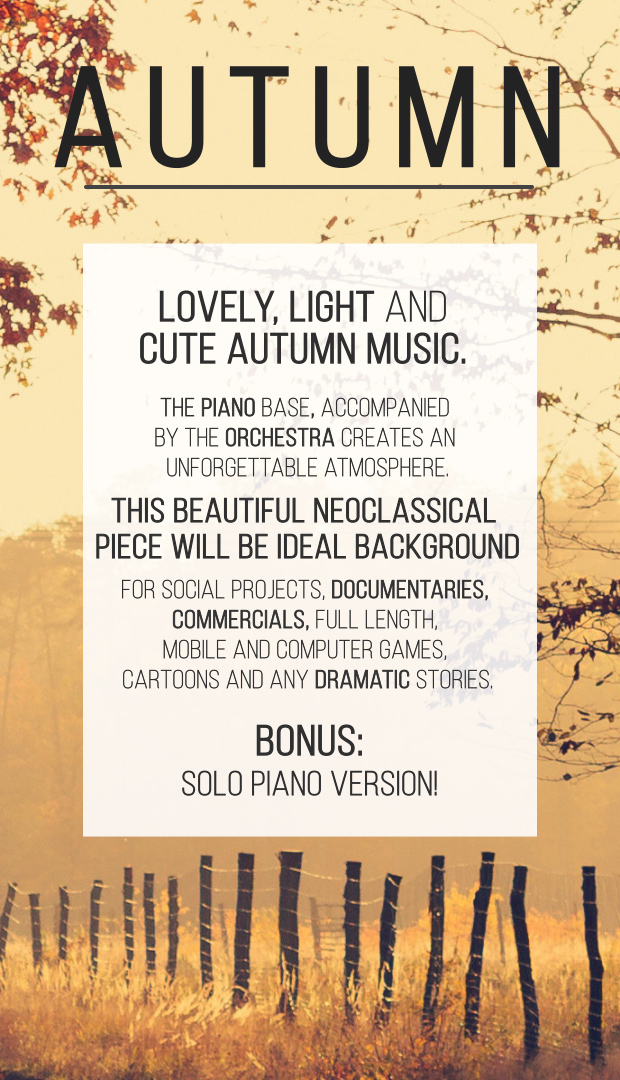 Lovely, light and cute autumn music. The piano base, accompanied by the orchestra creates an unforgettable atmosphere. This beautiful neoclassical piece will be ideal background for social projects, documentaries, commercials, full length, mobile and computer games, cartoons and any dramatic stories. BONUS: Solo piano version!
Zip archive included:

Main – 2:13
Piano – 2:10 (2:07 – 4:17 on preview).
IDEAL FOR:
Video Presentations – Slideshows – Quiet Parallax Slideshows – Documentaries – Films Score – Games – Advertising – Cinematic Ambient Slideshow – Commercial Ambient Montage – Ambient Presentation – Uplifting Ambient Advertising – Cinematic Lounge Slideshow – Commercial Lounge Montage – Lounge Presentation – Uplifting Lounge Advertising – Youtube Video – Business and Corporate Promotional Presentation – Home Video – Crowdfunding Video – Background Music – TV or Radio Advert / Commercial – Videohive Preview – Viral Marketing Campaign – Social Media Marketing