LET'S CONNECT! SEND ME YOUR PROJECTS!
Ambient Corporate Motivation Kit
Exclusive, inspiring corporate motivational sounding track to complete your next business or corporate video! Clean, inspiring sound along with the great editing possibilities together create a perfect music track to take your awesome project to the next level.

Designed for a:
advertising/commercial
corporate video
marketing video
inspiring presentation and infographics
lifestyle video
travel video
slideshow
digital marketing
promo video
innovation/technology video,
website
tutorial,
explainer,
gaming videos
vlog/series
and so many more!
Don't compromise on quality, as you deserve it! Get "Ambient Corporate Motivation Kit" today or save it for later! (add to cart, bookmark or favorites)
WAV files included in MUSIC KIT: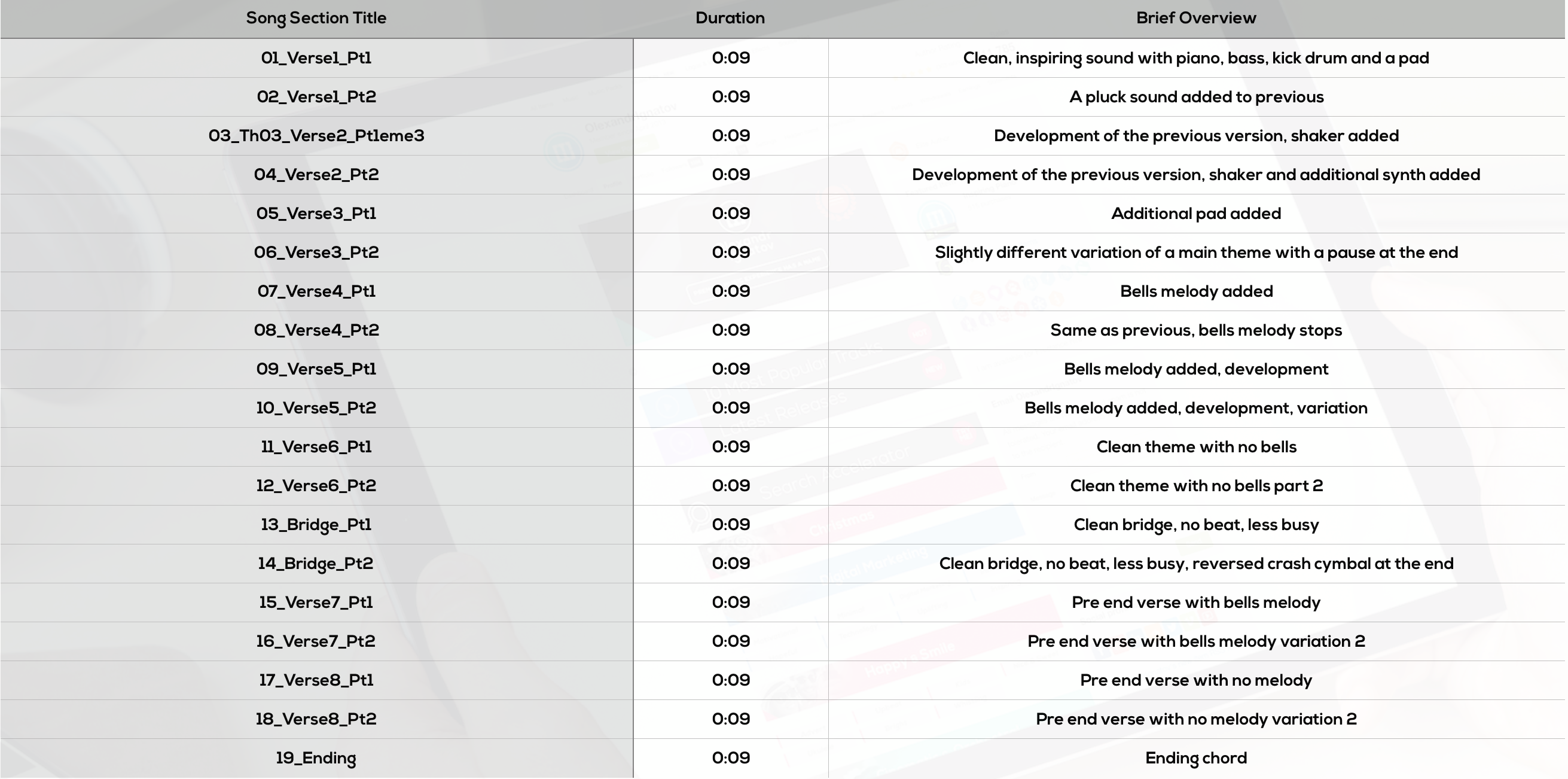 MUSIC KIT description
Professionally made music kit. Based on my original AudioJungle item:
"Ambient Corporate Motivation"
What is a MUSIC KIT?
Music Kits are a more flexible, production ready music offering that provides fully produced music tracks in an easy to work with, modular way. Where typical music items are fixed length tracks, Music Kits are provided as separate drag-and-drop song sections built to provide natural musical transitions and endings that can be arranged seamlessly on a project timeline, with no additional mixing, editing, or crossfading required.
All of the sections from the original music track are included in this music kit. You also got three demos that show how quickly and easily you can move pieces of the song around and achieve almost any desired results with length, atmosphere and transitions.
You will receive all the WAV files of all three demos (unwatermarked) plus documentation containing instructions and a description of the segment sequence for those demos are included within the zip file you will download.