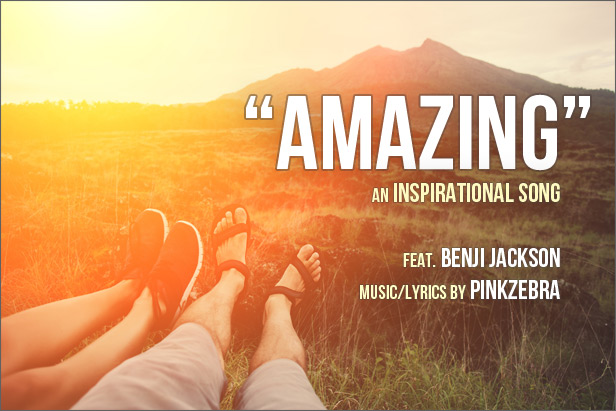 "Amazing" – An Inspirational Song with Vocals
"Amazing" is an inspirational song is about living life to the fullest, enjoying life's adventures, and seizing the day. It's about the awe-inspiring feeling you get when you hike in the mountains. It's about home movies that show the joy of building a family. It's about the thrill of climbing through the playoffs with your sports team. Wedding videos, GoPro videos, vacation videos, baby videos, graduation videos. This song is life-affirming and will work beautifully with any project that showcases life's best and most amazing moments.
There's even a 30-second version that uses the final chorus "it's amazing" lines that would work perfectly for a KickStarter campaign or a video demonstrating new technologies.
Another huge thanks to Benji Jackson for once again lending your "amazing" voice to this song! If you would like to hear fellow AudioJungle author, Benji Jackson's music, please click
here
.
For added flexibility the instrumental version, plus a shorter version, and a 30-second version are also included.
Files included in the zip:
Amazing (4:18), WAV and mp3
Amazing – instrumental (4:18), WAV and mp3
Amazing – edit 1 (2:33), WAV and mp3
Amazing – 30 (0:30), WAV and mp3


To find similar music follow these tags:







Lyrics
I'm living right here and now
And I don't wanna miss out
Is this what life's all about?
The world is calling and I'm listening
Yeah, I'm listening

I feel the freedom inside
Come on let's go for a ride
I finally opened my eyes
And I can see it so clearly
So clearly
Life is but a dream

And isn't it amazing?
Oh
Life can be amazing
Oh
I feel my heartbeat racing
I fly
Soaring ever higher I can light my inner fire
And then we'll see what happens now, what happens now
And then we'll see what happens now, what happens now
Watch what happens now

Sometimes we have what it takes
Sometimes we make our mistakes
And now the journey awaits
So don't you want to come with me? Come with me

We'll make our way to the top
We'll never break, never stop
And when we get to the spot
We'll know we made it there together
We'll remember forever
That life is but a dream

And isn't it amazing?
Oh
Life can be amazing
Oh
I feel my heartbeat racing
I fly
Soaring ever higher I can light my inner fire
And then we'll see what happens now, what happens now
And then we'll see what happens now, what happens now
Watch what happens now

It's amazing, oh it's amazing
It's amazing, it's amazing
It's amazing, it's amazing
Oh
It's amazing, oh it's amazing
It's amazing, it's amazing
It's amazing, it's amazing
Oh
What happens now, what happens now?
What happens now, what happens now?
Watch what happens now
Related marketplace items using this track:



Speed Search
Web and social media links






Attention all VideoHive authors:
You may use any of my preview tracks for your VideoHive items provided you give my music track a link in your description (like "featuring the music track 'In the Moment of Inspiration' by pinkzebra"). Also, please send me an email to let me know about your item so that I can include links to your item in my profile and item descriptions to help promote your VideoHive item. Thanks! ~pinkzebra