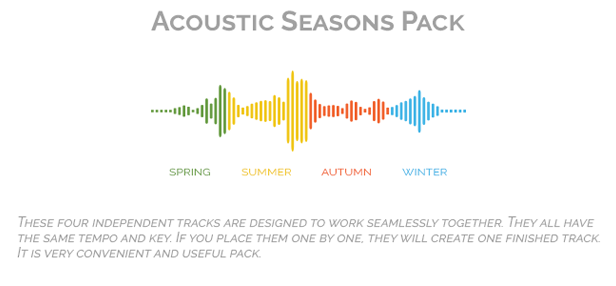 All four of my new Acoustic Seasons tracks are included in this new music pack. These four independent tracks are designed to work seamlessly together. They all have the same tempo and key. If you place them one by one, they will create one finished track. It is very convenient and useful pack.


Files included in the zip and played in the preview file in this order:

Acoustic Spring (2:08)

Gentle, carefree, emotional, breezy acoustic track, thoughtful and cheerful at the same time. It is wonderfully suited for photo slide shows, family movies, presentations, commercials and advertising, YouTube videos and more.


Acoustic Summer (2:08)

"Acoustic Summer" is a fun, cute, positive tune with a happy guitar melody, later joined by simple piano, soft acoustic guitar, upbeat drums, and claps. This joyous folk track is a perfect for any sort of quirky media or off-beat branding, wedding videos, romantic videos, inspirational projects, photo slideshows, motivational presentations, YouTube videos etc.


Acoustic Autumn (2:26)

Gentle acoustic guitar creates a relaxing mood and beautiful melody makes this track a sentimental and romantic. Perfect for advertising, web videos, romantic project, sentimental movie, presentation, slide show, love story, movie, film etc.


Acoustic Winter (2:08)

Beautiful, delicate and relaxing melody with guitars and piano. Perfect for advertising, YouTube videos, romantic project, sentimental movie, presentation, slide show, etc.






How to make your project successful?
You need to create the right mood. You're in luck's way! We will help you. Dredstudio's music helps advertisement be more appealing to the audience by simply making it more attractive espectively more aesthetic. You may use any of my preview tracks for your projects provide link to my track in your description.
Dredstudio's royalty free music is perfect solution for advertising, slideshow (slide show), YouTube videos, home videos, love stories, romantic and sentimental movie, lower thirds, titles, trailers, web marketing, presentations, bussines projects, portfolio, films, background music, hollidays, party, motivational and inspirational videos etc.