About this song.
This is an even more uplifting arrangement of my song
A Stirring Sensation
. Still featuring all the bright emotional melodies and warm supporting harmonies, this mix brings in additional percussion and instrumentation for increased excitement and energy, and a much more climactic build. The song evokes images and feelings of life, hope, purpose, and passion. Ideal for underscoring any project with a sense of wonder and emotion.
This is a bonus
sixth
arrangement in an originally
5-part series
of emotional, cinematic tracks. With common instrumentation, matching keys, and a range of emotions, all together they make a perfect set of underscores for your entire film or video series!
Instrumentation.
Emotional mallets, piano, pizzicato strings, celesta, marimba, percussion, string section, cello, and bassoon.
Included Tracks.
There are four variations included with this song, giving you extra flexibility. Here they are in order of appearance in the preview track:
Climactic Arrangement (As described above) 1:15
1 Minute Version (A slightly more compact version ideal for standard length commercial/video spots, with a simpler alternate ending as well. Final chord around 0:53) 1:00
Extended Version (Ideal for longer projects, this track integrates and enhances parts of the original arrangement for an even more extended and climactic build-up) 2:34
Main Loop Mix (An extended track of just the main song section with the mallets, piano melody, and percussion, allowing for ease of looping/extending. More info below.) 0:38
Each variation is its own separate file, included as both a full resolution WAV as well as a high quality MP3.
So What's a Loop Mix?
Loop mixes are tracks specially optimized for ease of extending and looping. Each loop mix contains a beginning, middle, and ending variation of the loop, played seamlessly together:
The beginning loop section provides you a clean, natural start to the music.
The middle section is seamlessly loopable.
The ending loop section has a clean, final ending to the music, providing the ability to create a complete sounding track with the flexibility and length you need!
The WAV audio file of the loop mix contains embedded markers at the loop points, making it especially easy to edit and extract each section and loop it as needed. Or you can simply use the full track as is on it's own!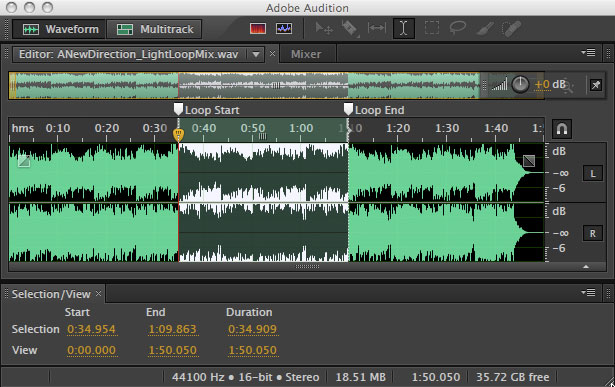 Feel free to contact me after purchase if you need any assistance with with the loop mix file.
Thank you!
Thank you in advance for your purchase, and please feel free to contact me with any of your sound or music needs!