About this song.
This pop rock song features driving electric guitar with catchy riffs and melodies throughout. The muted guitar lends a strong energy without being too overpowering. A middle section escalates into a head on guitar vs. glockenspiel showdown, full of attitude yet still with a very positive vibe.
This song would be great for commercials, corporate media, behind a photo montage, or on a road-trip with your friends! Very youth-friendly and appealing to current generation audiences.
Instrumentation.
Electric guitar, electric bass, piano, glockenspiel, celesta, and drums.
Included Tracks.
There are five variations included with this song, giving you ultimate flexibility. Here they are in order of appearance in the preview track:
Full Song (As described above) 2:01
Beginning Loop (A seamlessly loopable version of the beginning section, approx 0:12-0:24 in the full song. Great little rock vamp.) 0:12
Main Loop (A seamlessly loopable version of the main song section in full swing) 0:24
Main Loop With Ending (A single main loop with the clean, final ending.) 0:34
Short Version (A compact variation suitable for use as a musical intro/outro, or with shorter commercial/video spots. Final hit around 0:26) 0:34
Each variation is its own separate file, included as both a full resolution WAV as well as a high quality MP3.
Need Video?
                                Check out these great VideoHive items featuring my track!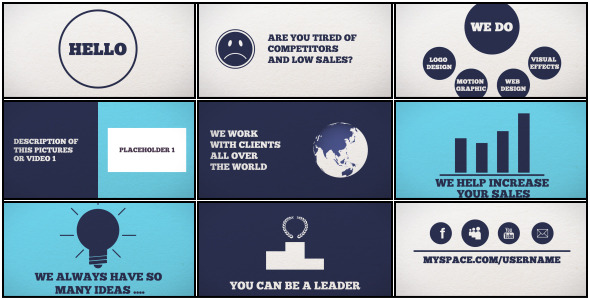 Thank you!
Thank you in advance for your purchase, and please feel free to contact me with any of your sound or music needs!