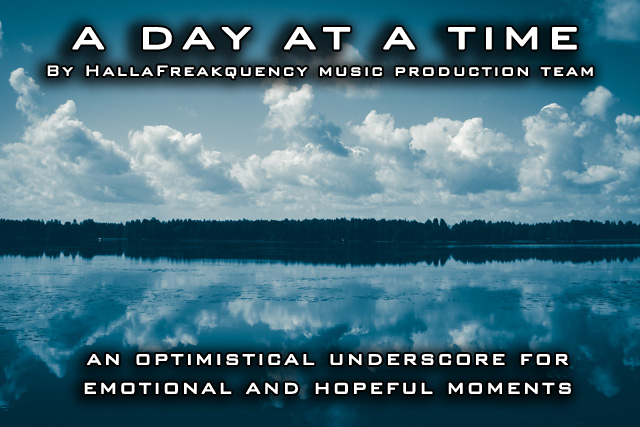 "A Day at a Time" is about taking life one day at a time and growing as a person and gaining success. This song also be great in context with love, nature, business, success and emotions. It can also picture a development in a person´s mental state or spiritual growth.
The song grows and evolves throughout its whole duration. It starts with a synth pad and piano and later in the song some strings, bass guitar, drums, electric and acoustic guitars and a flute make their entrance. The second part is already a major step up in dynamics and instrumentation but the finale of the song gets its crown from an epic guitar solo and staccato strings.
This song provides you with three very different sounding sections that share a chord progression and revolve around the same melodic theme. To make the song even more versatile for your particular use, you get four different versions when you purchase this item.

The buyer gets 4 variations of the song:
Full version (2:18) – preview at 0:00
Shorter version (1:12) – preview at 2:16
Shorter version without flute (1:12) – preview at 3:25
Only outro version (0:39) – preview 4:35

The purchased download includes both WAV (16bit/44.1kHz) and MP3 (320kbps) files for your convenience.