Welcome!
Thank you for visiting my profile page. My name is Viacheslav Rudkovskyi. I am composer in "Speak Music".
I hope that my work will be enjoyable not only for me but also benefit for you. Please Follow me if you like what I do and rate if you buy. Please contact me if you would like different variation of my track. If you will have any questions, please e-mail me: rudvychnik@ukr.net
VideoHive authors, please feel free to use my music in your projects!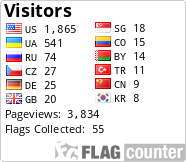 Public Collections
View All Collections