Alchemy Studio - Matteo Bosi
BRAND NEW SONG: "ROMANTIC DREAMS"
A very soft, romantic and peaceful piano driven music, with violin and cello added to highlight the main melody, full of hope and peacefulness
It can be used for any kind of romance of romantic project such as wedding or family photo slide shows. But i feel it can be also successfully used in corporate presentations or advertise. It can serve as background music for documentaries or travel videos.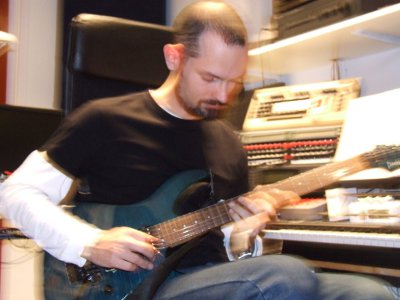 I'm an independent musician and composer, dealing with a lot of different generes of music, from rock to soundtrack, from ambient to children's lullabies . The feelings expressed by my music varies a lot from romance and love to epic fantasy, from thriller and horror to hope and joy: you will find for sure something that suits your needs and tastes in my portfolio!

I'm a guitarist, keyboardist and multi-instrumentalist, with an experimental attitude. I have plenty of exotic instruments collected around the world (indian sitar, chinese erhu, dizi and guzheng, turkish saz, etc) and I like to combine them with samples and synth sounds from the PC, as well experimenting with sound design, unusual, and custom build instruments.
To videohive authors: you can surely use my preview music in your projects! Please link my page and drop me an email so that I can show your video here.
The list of my collaborations are on the bottom of this page. Why not to become the next one?
Since I understand the power synergy between audio and video, take also a look at my youtube channel to listen to my music on the background of several videos made by authors on videohive
Find the song you are looking for:
Happy, uplifting, corporate, motivational (also with unusual instruments!)
Save money with this "happy/uplifting songs with unusual instruments" pack

Aggressive Metal Loops
Save money with the loop pack 1, the loop pack 2, and the loop pack 3

Audio logo, Stinger, Identity, Intro
Save money with the Metal Logo Pack 1, Metal Logo Pack 2 or Metal Logo Pack 3. Look at this video featuring my best seller Metal Logo Stinger 1, this video featuring my Metal Logo Stinger 9 and this video featuring my Metal Logo Stinger 33

Trailer, broadcasting, action, sport

New age, background and meditative music

Ambient and soundscapes for thriller, suspense and horror
Save money with this ambient pack

Cinematic, Romance, Love, Hate, Passion – Look at this video featuring my music Romantic Piano Melody
Save money with the Romantic Piano Pack

Epic, heroic and fantasy music

Lullabies for baby sleep
Save money with This lullaby pack

Miscellaneous and uncategorized, SFX and weird stuff!
Read my
Interview
on Envato notes
Please help me to reach your needs: if you buy my music, I will be very happy to know how did you find me and why did you choose my items. I am also really interested to know how did you use my music, and I will keep all the informations strictly confidential: so feel free to send me an email.
...And do not forget to rate the songs!!
Have a look at my site
http://www.alchemystudio.it
.
Watch my videos on youtube:
http://www.youtube.com/bosone666
.
Connect to my facebook page
https://www.facebook.com/pages/Alchemy-Studio/206292809387765
to get updates of my music activity.
My music was used in the following videohive items:

"Music Logo" – my item:Metal Logo Stinger 9

"Heavy metal" logo – my item: Metal Stinger ident 1

"Heat walls" logo – my item:Metal Logo Stinger 33

"Timeless memories" – my item: Piano Romantic Melody

Dark Action Trailer music was previewed in the awesome Kickstart – Retina Responsive Multi-Purpose Theme Wordpress theme from Themeforest author MKKY

Shape Letter Business Card – my item: Motivating with a Balalaika

Santa on drone – my item: Jingle bells folk ethnic

Great videohive authors to check out
:

(the next could be you!)
Public Collections
View All Collections