Music is my life! :-)
It's really hard to write about myself, but I've decided to try. I was born on August 12, 1977, in the second city of Ukraine – Kharkov. Since 5 years I'm engaged in play on a piano. I guess that's because my mum was music school teacher. In the childhood I played classical music to develop my technics, but only at mature age I began to understand and appreciate creativity of composers: Mozart, Bach, Chopin, Tchaikovsky. At 22-23 I've understood, what a jazz is. At 17 I've started to learn a guitar and a bass to understand the rock music. My favorite rock bands are Europe and Bon Jovi. And I will always play rock in spite of that's not marketable goods, this music just needs perfect technics. (I don't even speak about virtuosity!).
In 1995-1997 I played atmospheric-gothic-doom-metal. We were "Apeiron", and we played interesting music. But I had to choose, what was music for me – hobby or destiny. I think, my choice's right. In 2000 I graduated from chemical faculty of Kharkov National university. And I don't regret it. One year I worked in school. It's funny! My former pupils are adult people now. I believe, they'll find their ways. 2.5 years I worked as manager in a trading-civil engineering firm (not bad experience :)). Since November 2004 I work in a store of musical instruments, but my future I see related with music and only with it. From 2004 to 2008 I wrote about twenty songs with english lyrics, you can listen it on my site.
In 2009 I fulfilled my dream writing a brand-new instrumental recording in electronic style "On the Edge of Eternity" which is considered a final product and can be exposed to wide audience. I went through great difficulties when promoting this album because the music market is supersaturated, and it's difficult to surprise the audience. But I am sure that all the tracks from this album will become a mobile content, and some of them will be even used in movies, television serials and commercials.
In summer 2011 I changed my old piano for the new one. Now I have a Yamaha Clavinova! A great piano with great sound, I'm inspired to compose by it. My old piano is a full epoch. I learnt all I know when I was sitting at it. But time passes and we should keep abreast.
In December 2012, I released an album which includes songs written by me during the period from 2004 to 2008 with good vocal and a new arrangement. This album is called "My music for everyone" and contains 15 songs of different styles, so everyone will be able to find something to his or her taste.
Continuing further, I have many new ideas to implement! I have big prospects for 2014 and plan to release the album "Blood Addict" which contains my own songs and cover versions of famous songs. I think this stuff will sound good and listeners will be satisfied! Wait, it's coming soon!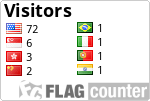 Public Collections
View All Collections