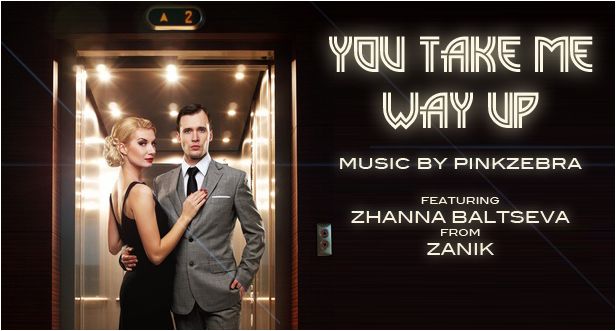 Instrumental now included!
A sexy, cool, retro-with-modern-flair song featuring stylish female vocals, big band horns, a stomping drum groove, and enough energy and attitude to melt your CPU! This edgy, driving and energetic track is a perfect match for fashion projects, stylish commercials, extreme sports, and many other projects.
Special thanks to Zhanna Baltseva of Zanik for her absolutely smokin' hot vocal performance! You can listen to more of her work here.
For added flexibility, three versions are included in the zip file: a full-length version, a shorter edited version to work perfectly with the VideoHive item "Creative Secrets" from yocreative, and an instrumental version. To listen to the edited version, please skip ahead in the preview to 3:27. To listen to the instrumental version, please skip ahead in the preview to 4:47.


Files included in the zip:
You Take Me Way Up (3:25), WAV and mp3
You Take Me Way Up – edit (1:20), WAV and mp3
You Take Me Way Up – instrumental (3:25), WAV and mp3

To find similar music follow these tags:



Lyrics:
You got me where you want me
Come and take me, come and get me
Don't you go, don't you know, don't you forget it

Look into my eyes
You'll see the fire burn inside
It burns for you and all you do and only for you

You got me hypnotized
There is no way I could devise
Another moment, day or night here without you

Oh where am I to go
What am I to do
If I ever had to be without my one and only you

And there's just one more thing I want you to know

You take me way up
You take me way up
You take me way up
Higher than the sky

You had me at hello
I'll never never let you go
I don't know how I ever lived here without you

You've got me rolling like a stone
And if you call me I'll be home
I'll never miss another minute beside you

So fill my cup again
You know I'll always let you in
I'll be your light, I'll be a beacon to guide you

And if you take me by the hand
You know I'll always understand
I'll always be the one who knows how to find you

And there's just one more thing I want you to know

You take me way up
You take me way up
You take me way up
Higher than the sky

You take me way up
You take me way up
You take me way up
Higher than the sky

Higher than the
Higher than the
Higher than the
Higher than the
Sky

You take me way up
You take me way up
You take me way up
Higher than the sky

You take me way up
(You got me where you want me)
You take me way up
(Come and take me, come and get me)
You take me way up
(Don't you go, don't you know)
Higher than the sky
Higher than the sky
Oh, higher than the sky

Related marketplace items using this track:


Web and social media links





Attention all VideoHive authors:
You may use any of my preview tracks for your projects provided you give my music track a link in your description (like "featuring the music track 'Keys to Success' by pinkzebra"). Also, please send me an email to let me know about your item so that I can include links to your item in my profile and item descriptions to help promote your project. Thanks! ~pinkzebra