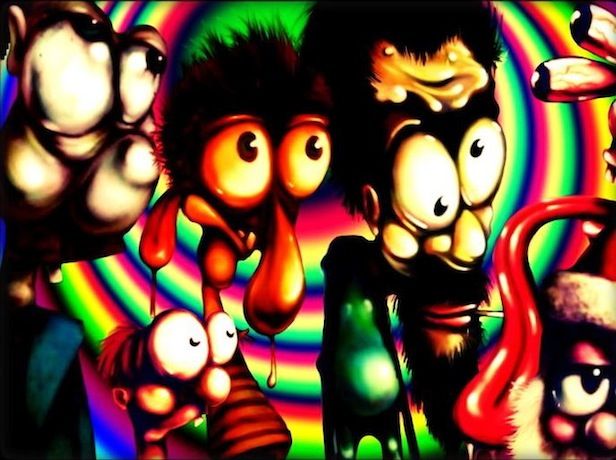 Hello and welcome to my fourth children's music pack…it's a little gem!
5 fantastic, fun, light hearted pieces, ideal for cartoons and games:
Leaping Lemmings Weeeeee…splat! Oh the drama
They plod along happily towards the edge of the cliff, following each other oblivious to the peril ahead. Then as they reach their destination, over they go! Too late the cry as they plummet to a crushing doom upon the rocks below. This is…a jolly little piece of cartoon comedy background music with a pleasant section and a more dramatic section. It features piano, bass, drums and organ. It is pretty simple to allow for a wide variety of creative uses.
Files included: Main with fade 2:19 Loop version 0:46 BPM 124
Bosh Bell Betty Bosh Bell Betty is a bouncy, bonkers bundle of fun. She dances down the street to the funky bosh beat. Twinkle and tinkle go the the angelic sounds of the little bell like tunes that float around in her happy head as she skips to the playground to play hop scotch and games with her best friends. This is a light hearted, simple glockenspiel based piece with accompaniment from the harp and a Bosh style world rhythm pattern. Although designed with children and educational uses in mind this could be used in a variety of other projects such as adverts and commercials.
Files included: Main tune 1:55 Loop Version 0:38 BPM 100
Colin the Cartoon Clown Colin the clown rides his unicycle to work. With his big red nose and sad face he works at the local newspaper, drawing cartoon characters for the weekly comedy sketches and funnies. Well…he isn't very happy in his work and imagines himself transported to the wonderful colourful world on the page in front of him. Oh if only he could visit this magical place full of adventure and jolly, funny, magical, silly people and animals that smile and say hello and join in their fun and games! A short, simple piece, ideal for children's programming, adverts, cartoons and other creative uses. Please check out my portfolio for many more fun, childlike and quirky themes
Files included: Main Piece 2:20 Loop Version 0:28 BPM 120
Jason and the Organauts Jason and his groovy trio of funky cats like to wait untill the midnight hour before they gang up and let rip with the heavenly sounds of the hammond organ! You'll find them at the local bingo hall where they imagine they are setting the world alight to the amazing 60's sounds of the new and the cool. Emulating his hero Ray Charles and other Motown legends…Jason slicks back his hair, dons the golden fleece and puts on his dark black shades and jives the night away to the rock steady beat. This is a fun, energetic 12 bar blues romp focusing on the Hammond B3 organ, supported by Rhodes, Bass and Drums. The organ was played live to give the piece a nice, natural vibe. It could be used in a variety of projects such as games, adverts and children's programming.
I have provided several loops to be used as building blocks if you need to alter the arrangement to suit your creative purposes.
Files included: Main tune – 4:16 12 Bar Part A – 0:27 12 Bar Part B – 0:27 Drop Down Part A – 0:18 Drop-Down Part B – 0:18 BPM 105
The Ballad of Listless Lil Listless Lil is home on the range. She's the worst cowgirl this side of Deadwood. Maybe she should think about quitting the ranch and going to work at the local saloon, serving whisky to all those fine gents and butch cowboys or maybe dressing up high class and becoming an entertainer, dancing on the stage with the other chorus girls…the thing is she wants to be a famous gunslinger, fastest gun in the wild west! So she carries on, plodding away, making a mess of it all. Oh dear…poor old funny Listless Lil, what's a girl to do? Imagine the tumbleweed rolling by as you listen to this 60's influenced jazz and blues piano take on western themes. A nice rolling piano part leads this lazy trio. A hint of my hero Oscar Peterson in this one. Enjoy! Although written with children's programming in mind this could be suitable for games, adverts, radio and a variety of other uses
Files included: Main file (with proper ending not fade) 3:08 Loop 1:01 BPM 94