Attended a Community Meetup
Elite Author
Author was Featured
Sold between 250 000 and 1 000 000 dollars
Bought between 10 and 49 items
Exclusive Author
Has been a member for 5-6 years
Referred between 200 and 499 users
United States
Hey Everyone,
I'd like to announce the launch of my iPhone app, Leaflet, for Envato Marketplace Publishers. Here's a quick preview: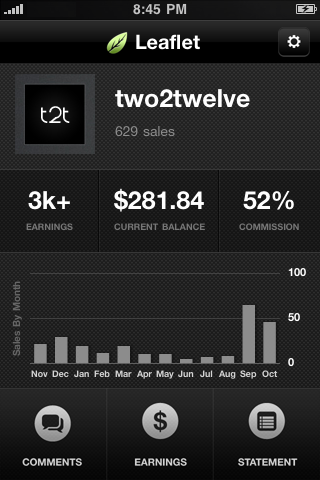 Leaflet lets you keep track of all of your account related information including comments, earnings breakdown, statement list and receive push notifications for both new sales and comments. You can also respond to comments and view individual statement entries all in one beautifully designed interface.
It's Available now on the App Store for $1.99
I have some great ideas in the works that are coming in (frequent) future updates. Also, an Android version is launching within the next few weeks.
Hope you like it!