Marbury-Media said
Well having just found out I have recently had 2 major strokes as a fit, healthy 48 year old with a healthy lifestyle it puts the terrible sales here for me in perspective. I can't afford to get stressed here any more but it is still very depressing
That's awful news Marb, sorry to hear that. Your health is far more important than anything else, hope you don't have any more scares, strokes are something to take seriously.
TheWhiteElephant said
Oh I'm so sorry about that. ;( Please tell me more about your mortgage. (chomp chomp chomp) Sorry I'm eating here while watching the golf. Go ahead.
Kind of an arrogant response, not really necessary.
Double-post, but kind of needed to be said twice anyway.
MusicBoxStudios said
Would you agree with this chart?
Hi Paul,
To me, that looks fine, although there are other set ups that can work as well. Hyperprod is right that many libraries are pre-panned, but I find I need to adjust these slightly and mixed well to create more 'space' in the mix otherwise a lot of parts tend to bleed into each other or sound lifeless for some reason (this varies from library to library of course).
It is tricky to get a real-sounding performance from samples. While it's certainly possible to get great results, as shown in plenty of films and some TV shows, I tend to try and get a real player to play at least a line or two on top of the track when it matters as it will help the piece enormously. It acts as a kind of 'focus' for the ear to distract you from the sampled stuff that might not sound all that real.
Of course, nothing I upload here has live strings as it's not cost-effective at such a low price point (for me, there is a limit to how much I will invest in a microstock library as I won't recoup the costs unless the AJ lottery wheel lands on me). But the tracks I put into higher-tier libraries or films I work on almost always do have live strings in some form or another.
MusicBoxStudios said
Based on the feedback here and after watching the video Mihai provided, it's safe to assume the biggest missing factor in my string compositions is reverb. That being said, should it be added on a per track basis, applied to a bus track and routed, or coated over the entire mix? Sorry if these questions seem remedial. This is a very new genre for me.
Hi mate,
I apply little bits of reverb via a bus on each channel whenever doing string arrangements and occasionally a bit to the master bus to 'glue' everything together. I also find the higher frequencies a bit harsh on most libraries (I'm yet to get Albion, so can't comment on that), but I find it helps to roll off a bit of top end, particularly on the violin sections. Also remember that string placement is important ie make sure your cellos, violins I, violins II etc are placed : panned as you would expect them in an orchestral set up.
Other than than, I think everyone else has covered the basics like careful midi programming / automation used in a way that a real player would play. I find it helps to listen to real string players when trying to emulate strings rather than listening to other sample-based tracks as you're more likely to get more realism that way.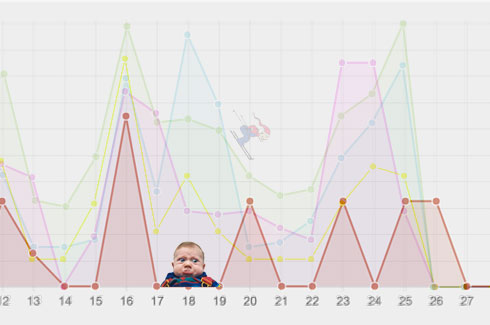 green: QuanticaLabs
blue: digitalscience
pink: TopStudio
yellow: An-Themes
red: tacoMusic (wishing he had a big mountain like the rest)
Well done Phil, glad to see you're spreading your wings into scoring to picture – it's a satisfying area to work in. Is that your music on the kampungquest.com link you sent? Nice work if so!
I've been trying to take a broader look at sales these days as opposed to looking at sales on a daily, weekly or even monthly basis, even though I've totally been guilty of doing the latter.
For example, so far, I've had an 82% drop in earnings this month in comparison to last month and there have been no indicators that it will change. I normally freak out at this stage and say the world is about to implode. Searching around, I can see that this coincides with a large drop in traffic on most RF libraries and AJ is suffering a drop in ranking according to Alexa: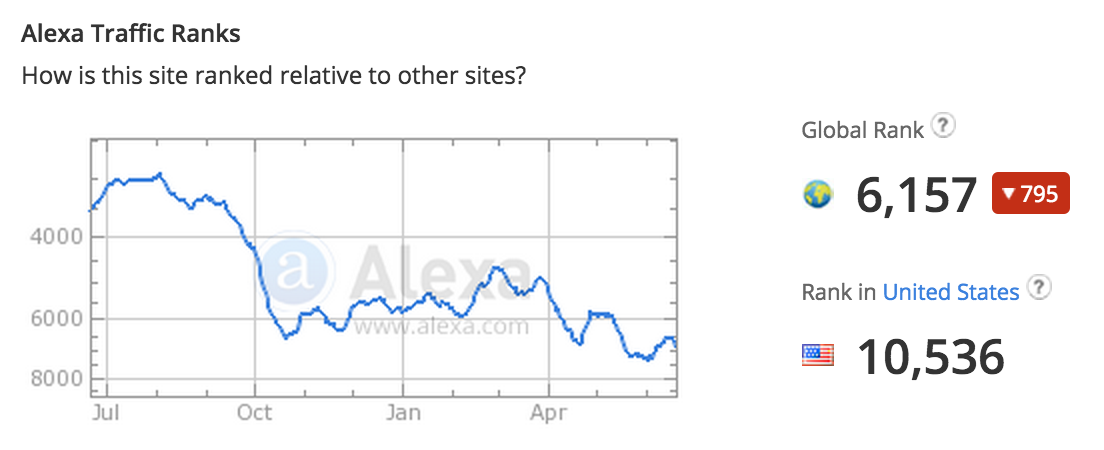 That graph shows that towards the end of September there was a big drop in AJ's ranking and it hit an all-time low in June which correlates with a lot of peoples' abysmal sales, including mine.
HOWEVER, if I look at my sales on a yearly basis, I can see that it has been increasing every year. Not by much, it's true, but it has been on the up which is good news and I'm roughly on target to earn the same as in 2013 at this point, if not the same as in 2014.
If all my sales totally dry up from here on, I'll eat my ukulele, but I think it's worth looking at the bigger picture in moments like this as it can be deceiving looking at short timescales.
Feeling like it's lights out here at the moment, really haven't seen a drop like this in the entire time I've been here – the only thing I can attribute it to is abysmal traffic based on the stats of my tracks. Are any of you switching up your tags, descriptions and titles to try and combat things, or focusing on external marketing?
OnBothSides said
I'm definitely invisible ! 6 days without any sales (usually 2/day). Is there a special badge for invisibility ?
It's invisible, so a bit of a hard badge to see…