Great to see things are moving forward, support is a controversial matter but it needs to be dealt with.
I do have a question though. Will Envato help authors with a toolkit API implementation for popular platforms (Wordpress BBpress, Zendesk/Freshdesk/Yeti/Helpscout etc.)? Or promote on CodeCanyon a section/category for Envato API implementations for Authors needs (we're quite a few tens of thousands here). I'd be glad to pay for updated toolkits for support verification needs, that could be easily implemented. I'd hate to get too busy tweaking my own system.
Really sorry if this has already been asked and replied.
Thanks!
You should actually try seeing from a different angle – admire their works and see them as your role model. Look what they're doing i mean it's surreal, fantastic work.
From what i noticed Envato's ecosystem is like a natural selection. Do something great and it will be noticed. If we keep following trends and do the same thing but with different fonts, images and colors, it will be just a tiny drop from an ocean.
I have all my respect for these guys, they're increasing the quality bar for ThemeForest.
EDIT: I too had 2 of my items featured and been featured as an author too but i know i did something great and i'm really proud of them.
Since the whole support is buyer-oriented, in these cases i make an exception and do it over the comments directly. It's not worth to get this mad for these situations that happen quite rarely.
Woohoo!! Well deserved Tom!!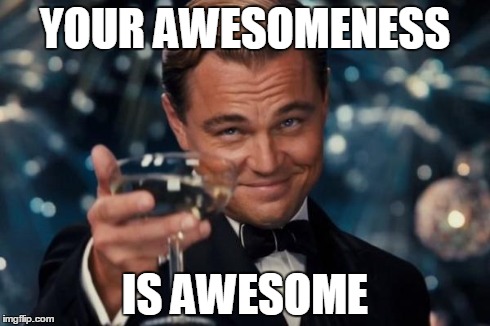 Oh man such a good laugh, too funny!!
Mi-ar fi placut sa ajung si eu in Bran, insa nu cred ca voi putea. Sper sa va distrati!!
Following/Liking/+1'ing since like always, also subscribed to Envato's Youtube channel
Not necessarily in this order:
Interstellar
Gone girl
The Imitation game
Guardians of the galaxy
Chef
Edge of Tomorrow
Horrible Bosses 2 (best comedy of the year for me, laughed so hard)
Also the best movie quote of the 2014: They hate us cuz they anus!!
Haven't seen yet but added to my watchlist: Grand Budapest Hotel & Birdman
PS: American Sniper i heard it's a bit propagand-ish and although is based on a true story it's not quite precise.
No words can describe this achievement. This proves impossible dreams can be accomplished. Congratulations guys, well done!!